Event listing
Flesh Colour – self-portrait workshop for Lewisham Borough of Culture Day One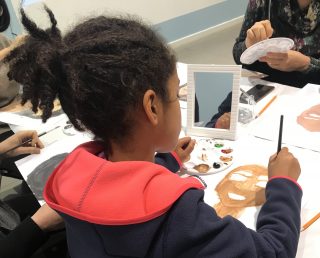 When
Jan 28, 2022 - Jan 28, 2022
Where
Migration Museum,
Migration Museum, Lewisham Shopping Centre,
London, SE13 7HB
Summary
Friday 28 January 2022
3.30pm–5.30pm (drop in anytime)
Free – no need to book
Join us at the Migration Museum for a free self-portrait art workshop as part of Day One of Lewisham London Borough of Culture.
Flesh Colour is a workshop designed by artist Angélica Dass and led by a member of the Migration Museum team, inviting participants to reflect on and deconstruct the stereotypical codes and associations between the colours white, black, red and yellow, and specific racial and ethnic groups. 
Participants will create artworks that represent their actual skin colour, in doing so calling into question the so-called 'flesh-coloured' pencils that are widely sold but which, in reality, only reflect the skin colour of a small proportion of people. 
This workshop is free and open to all – no booking or experience needed and all materials will be provided – just drop in anytime between 3.30pm and 5.30pm. The workshop is open to children over the age of 5. Please note that this workshop involves painting, so wear clothes you don't mind getting a little of bit of paint on. All children must be accompanied by an adult.
The workshop is inspired by Angélica Dass' Humanae, a portrait project exhibition which is currently on display at the Migration Museum.