Event listing
Family Fun Day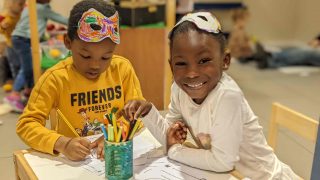 When
Feb 17, 2023 - Feb 17, 2023
Where
Migration Museum,
Migration Museum, Lewisham Shopping Centre,
London,
London SE13 7HB
Summary
Friday 17 February 2023
11am–3pm
Free – no booking
Join us during half term for a day of fun activities for the whole family.
Discover the incredible migration stories of the Migration Museum and explore your own personal connections to migration, with a range of free activities for all ages, including:
A necklace making workshop led by Vanessa
An Around the World Picnic workshop led by Kim, exploring migration through food and encouraging pride in the diverse places we come from through drawing, sharing and story-telling.
No booking needed – drop in anytime from 11am–3pm to join in the fun!