Event listing
Moving Stories: Lewisham – window displays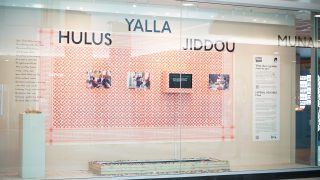 When
Feb 16, 2023 - Mar 26, 2023
Where
Migration Museum,
Migration Museum, Lewisham Shopping Centre,
London,
London SE13 7HB
Summary
16 February – 26 March 2023
Free – no booking
What does migration mean to you? 
Over the past year, young people from across Lewisham have been designing exhibits responding to this question as part of Moving Stories: Lewisham, a creative competition the Migration Museum ran during Borough of Culture, supported by Landsec.
We are proud to display the winning entry, Material Memories by Muna (pictured above), as well as the five finalist teams' work in our windows.
Moving Stories: Lewisham – winning display
Material Memories
Muna 
Palestine is very special to me. My jiddou (grandad) grew up there and my mum has many memories of visiting. 
I have no direct experience of Palestine, but this exhibit is about how I experience it in my everyday life, as a 10-year-old girl from south-east London. I also wanted to explore family, home, and how the past mixes with the present.
The large words above are Arabic words that me and my family use in our day-to-day lives. Click here to hear what they mean.
You can also listen to an interview with my mum and jiddou and hear my poem called 'Green, Black, White and Red'.
The za'atar spice has travelled to my house from Palestine and the pictures are of my mum in Palestine and my family who are still there. The boats made of walnut shells are inspired by my conversations with jiddou and his memory of making toys when he was my age. I've made three characters to sit on the boats: me, my mum and my jiddou.
Moving Stories: Lewisham – finalist displays
We Will Not Be Silenced
Edison Ling
My exhibit engages with the idea of going against racism. Included in this piece are those who have faced racism in their lives – even me. My own friends displayed in this piece have also experienced or witnessed racism personally. Together, we are here to stop racism. Racism is not a joke, it is not a topic which can be taken lightly. My piece stands for what needs to be said in six simple words: "WE WILL NOT BE SILENCED ANYMORE." 
If we stand together as one, we have the power and the voice to tackle racism and make the community whole.
A community as one will only be stronger together.
Migration of Mixed Emotions
Jessica and Agnes 
'Migration of Mixed Emotions' portrays the emotional journey of a young child, called Alix, who moves from Taiwan to England. 
Her journey brings to life the highs and lows faced when moving from one country to another. Alix is happily living in Taiwan, but whilst she's eating dinner, she discovers that she will be moving to England, without her father. The news comes as a shock, causing her to feel anxious.
After a long journey across the sea, she arrives in England. There are lots of differences that she has to adapt to: including the cold weather and unfamiliar food. At the right time, she receives a letter from her father that lifts her spirits. As time passes, Alix begins to feel happier, especially when her mum buys her a cat to help her feel less alone and then hears news that her father is moving to England too.
Destination Cliff Terrace
Gene and Daniel 
Like any other street, Cliff Terrace is home to people with migration stories from all over the world. We have chosen to explore the migration stories of Cliff Terrace because this is where Gene lives.
This project celebrates these stories. We are hoping that people who see this project might think about the stories of people in their own street. Maybe they will have conversations and maybe make new friends.
Fighting Distance – The Impact of Memories
Dakota, Lef and Amy
This prototype emphasises the importance of preserving memories of our time in the countries we are from. Our principal character guides the viewer to see and interact with how images of us in our home countries turn into the way we remember being there. 
We chose this theme as the three of us live away from our extended families. The memories we made with them in our home countries helps keep that connection, despite the distance.
Migration Laws
Laura and Ivy 
Our exhibit seeks to peel back the rose-tinted wool covering society's eyes. Through our creation, we aim to expose the harsh realities that people suffer through when migrating because of both older and, sadly, newer rules that crush the hopes and dreams of those who come seeking refuge. 
This exhibit, which we have worked very hard on and we are so proud to show, consists of a book of migration laws, which when opened reveals the truth through a video. The video has interviews from people who have experienced the unjustness of the harsh migration laws of this country – either personally or through second-hand accounts.
Supported by: