Event listing
LGBT+ History Month: queer/ing family trees workshop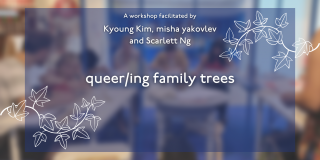 When
Feb 11, 2023 - Feb 11, 2023
Where
Migration Museum,
Migration Museum, Lewisham Shopping Centre,
London,
London SE13 7HB
Summary
Saturday 11 February 2023
12pm–2.30pm
Free – book via Eventbrite
That chosen families are of vital importance has long been understood within LGBTQI+ communities.
This truth becomes readily apparent too when living under conditions of migration and diaspora.
However, if a tree is used to visually delineate the lineage of biological families, what shapes might the formation of our chosen families take? How might the forming of our queer, chosen families be represented and honoured?
In this workshop, we will discover this together by tracing and reflecting on the forming of our own queer families and the journeys we've taken in making them.
Join artist Kyoung Kim, misha yakovlev and Scarlett Ng – all of whom are members of their chosen 'Queer' Asia family – for this workshop. Kyoung's art installation 'Untitled (believing isn't seeing)' is part of the Migration Museum's current exhibition Taking Care of Business: Migrant Entrepreneurs and the Making of Britain.
This workshop is open to all. The journey of LGBTQI+ migrant life and those who become members of our chosen families come in all shapes/size/identities, and this is a chance to recognise, honour, and celebrate the diversity within our communities of acceptance, whatever they may be.