Event listing
Cartoneras in London: Untold stories from Latin America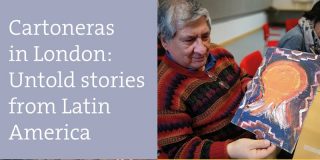 When
Nov 23, 2019 - Nov 23, 2019
Where
Migration Museum at The Workshop,
26 Lambeth High Street,
London, SE1 7AG
Summary
Saturday 23 November 2019 | 3pm–5pm
Migration Museum at The Workshop
26 Lambeth High St, London SE1 7AG
Free – register in advance via Eventbrite
Join us for a creative workshop about a unique Latin American publishing phenomenon where you can try your hand at making your own cardboard book.
Cartoneras (cardboard publishing) is a unique grassroots Latin American publishing phenomenon, which offers alternative forms of community engagement, activism, and social change.
Join in a workshop run by the Institute of Modern Languages Research, University of London, in partnership with Southwark Council, to learn about this empowering cultural phenomenon and see how the model has been used to engage young Latin Americans in South London. A presentation by researchers Lucy Bell (University of Surrey) and María Soledad Montañez (School of Advanced Study) will be followed by a hands-on workshop where you can try your hand at making your own cardboard book. By the end of the day you will discover how storytelling, imagination and creativity can transform community engagement, connecting and inspiring people from many different walks of life.
This collaborative event involves two Arts and Humanities Research Council projects – Cross Language Dynamics: Reshaping Community and Cartonera Publishing: Relations, Meaning and Community in Movement.
This event is part of the Being Human festival, the UK's only national festival of the humanities, taking place 14–23 November. Led by the School of Advanced Study, University of London, in partnership with the Arts & Humanities Research Council and the British Academy. For further information, please visit beinghumanfestival.org.
This is a free event, but advance registration is essential. Click here to register via Eventbrite.
Light refreshments. Family friendly. Children should be accompanied by an adult.