28 May, 2019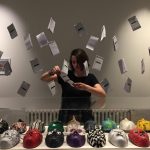 Belén L.Yáñez is the last artist in residence in the art studio at the Room to Breathe exhibition. It has been exciting to see this space filled with so many different artistic practices and to witness how visitors have responded to them. Belén comes from Galicia, a land of migrant people or, as she calls it, of explorers. Her desire for travel, adventure and different life experiences is the main trigger of her migration story: from Santiago de Compostela to Budapest and Madrid, then to Sicily – where she worked with the National Institute of Ancient Drama – Belén developed her artistic career in the places she lived in. Although acting and theatre were her point of access to the world of art, performance became her main focus, especially after she moved to London to study Contemporary Performance Practices. Belén's body of work is a reflection of her political understanding of both the social world and human relations. Her work, however, is also a result of the very rich experiences she lived through migration.
As with previous artists in residence we are going to learn more about Belén L.Yáñez through a series of questions and answers. Dima Karout, curator of the art studio, will offer her thoughts on Belén's work, together with comments from previous artists in residence.
---
Assunta Nicolini (AN): Belén, welcome to the art studio at Room to Breathe.  Your personal life/migration journey from Galicia (in north-west Spain) to London, with several detours along the way, has defined your artistic career. To what extent do you consider mobility essential to your work?
Belén L.Yáñez (BLY): The constant travelling brings new perspectives to my understanding of other people and the world we live in, and my art is a reflection of this. Being in movement is being alive. I have embraced my constant travelling as an essential part of my development as an artist. Therefore, my journey has become my art.
AN: Among the range of artistic practices you engage with, collages take a particular space in the art studio at the Migration Museum, where you both display your work and invite visitors to make their own. Could you tell us which process you follow when making your collages? Do you engage visitors in the same creation process that you go through?
BLY: I use collage as the medium to represent my perceptions, because collages are a composition of layers in which new images are created through the transformation of existing ones, in the same way that perception is transformed by being received by the senses and interpreted differently by different people.
My collages are an open door to all possibilities, a process of freedom that allows me to deconstruct reality by playing within layers of imagination, and to open up new perceptions using the ideas hidden in my subconscious.
In my studio, I created a space in which visitors are invited to explore, connect with other people and experience things.
AN: Performance art is an art practice that you came to later in your career as an artist, in particular since you moved to London. Could you tell us about your formative experiences and your vision for performance art?
BLY: My fields of expertise are strongly interdisciplinary and cross-cultural with an academic background including a postgraduate course (MA) in Contemporary Performance Practices from the University of East London, and an undergraduate BA (Hons) in Politics & International Relations from Santiago de Compostela University.
I understand performance as an act that occurs between the performer(s) and the audience in the present time. In general, in my work, I am interested in the live encounter between the audience and the performer, a creative co-production through which a live experience is created. For me, performance only exists as a 'real' encounter between audience and performer, and through the experience that takes place between them artwork is created.
My work is a hybrid practice that seeks new ways to engage audience members as active participants. I aim to encourage a critical consciousness to reflect on current social realities.
---
AN: Dima, as curator of the art studio what is your opinion of Belén's work?
Dima Karout: Belén is an intriguing multi-disciplinary artist whose work reflects on social issues, human connections, migration and identity. Her residency brings an exciting dimension to the Migration Museum, where art leaves the walls, and acts in the space. In her participatory performances, she invites visitors to transform themselves into active participants so that their moving bodies become a core part of the final piece. She brilliantly blends the boundaries between the artist, the artwork and the viewer to propose a sense of entity in a final coherent piece. On first coming across her different performances, I really admired her ability to design a site-specific work to create a conversation not only with the participant, but also with the history of the place.
What has most inspired me is Belén's understanding of space and how she navigates her concepts through various mediums and spaces: from composing elements into the emptiness of a white page in her collage pieces – 'a medium that allows me to rebuild a new reality, create new narratives by playing with layers of imagination' – to designing a conceptual performance in which the body experiments and moves in the physical space. 'Awakening invites participants to play different social scenarios and reflect on their culturally learnt behaviours.'
When I first met Belén, I was very impressed by her positive energy, body language and how in harmony she is with the work she creates. It is very refreshing to see how true she is as an artist to her practice. I always describe Belen as a travelling sun: she crossed borders, collected experiences, moments and light and she shares all of this with us through her art. Belén transformed the art studio space into not only a room to breathe, but also a colourful room full of movement and life. She offers a space for our imagination to travel freely and invites 'all senses to a total awakening'.
When I stepped into Belén's art studio, I immediately connected with the strong presence of orchestrated movements, and sensed the importance of the body in all of her work. In her collage pieces, your eye follows the visual flow she composed and the fragmented images of parts of the human body. And there are various elements delicately suspended in every corner or hung on the walls in unusual ways, all related to her previous performances. The presence of elements such as white shoes covered with handwritten lines of text, transparent clothes, and colourful handmade masks, all suggest the absence of the body, but also that there is a performance waiting to happen – a performance that becomes complete with the human. With you. I strongly invite you to visit Belén's studio, to discover her unique universe, and to experience her powerful art.
AN: Ceyda and Shorsh, as previous artists in residence at Room to Breathe, which work by Belén would you consider your favourite?
Ceyda Oskay: I Is Another reminds me of my work with felt insoles for shoes, on which I embroidered 'Come' and 'Go' – gel-git – which is a phrase in Turkish that means both 'tides in the sea' and 'indecision'. I liked seeing how different symbols, in this case shoes, can mean completely different things in artwork.
'Try walking in my shoes . . . ,'* Belén seems to be saying in this artwork – or at least try listening to others' stories . . .
Belén's piece is about gentrification but, rather than indulging in nostalgia, she employs an active 'present' participatory act, or perhaps performance: she asks participants to wear one of the shoes she has prepared, and to walk through neighbourhoods undergoing the social transformation of gentrification.
*lyrics to Depeche Mode's 'Try Walking in my Shoes' song
Shorsh Saleh: Belén's miniature collages are full of unexpected and surreal images. I found Watering Memories very interesting. The work is divided into two sections: in the top part we see the silhouette of a man, holding a watering can, set against a calm and empty background; the bottom part is completely different, with lots of lines crossing and fragmented words and images, all of which creates the overall effect of a graveyard. Underneath the crossing lines there is an image of an upside-down tree without any leaves, creating the effect of tree roots. Once you see the tree, you associate it with the person holding the watering can. In my opinion, the relation between the man and the tree is the key to understanding the message behind the work: the connection between you and your roots and your memories. This work is deep and sad and taps into the hidden melancholic feelings inside us all.
---
Belén L.Yáñez  is artist in residence from 30 April to 2 June 2019. Belén will be in her studio most days until the end of her residency, and you can stop by to chat with her, and design your own artwork. She is also running two film installations this coming weekend, on Saturday 1 June and Sunday 2 June.
Assunta Nicolini, gallery supervisor, has been curating blogs about the artists who have had a residency in the gallery.
Dima Karout is a visual artist and educator and is curator in residence of the art studio inside Room to Breathe.
View the full schedule of artists in residence and find out more about Room to Breathe.