Event listing
Sound Art at NRS: Kurt Schwitters' 'Ursonate'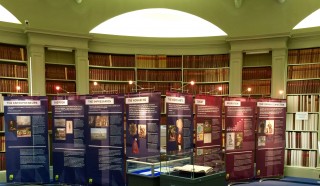 When
Aug 7, 2015 - Aug 7, 2015
Where
National Records of Scotland, General Register House,
2 Princes Street,
Edinburgh,
Scotland EH1 3YY
Contact
Telephone 0131 535 1314
Summary
7 August, 6.00 – 7.00pm
Kurt Schwitters' 'Ursonate'
Performed by Florian Kaplick
The Ursonate is a vocal piece consisting of four movements, an overture and finale by artist Kurt Schwitters (1887-1948). Schwitters emigrated from Germany arriving at Edinburgh Leith Docks on 18 June 1940. He first performed the sound poem in 1925 and published it in 1932 as 'Sonate in Urlauten' (Sonata in Primordial Sounds). 'As with any printed music, many interpretations are possible. As with any other reading, correct reading requires imagination' (Kurt Schwitters).
Florian Kaplick studied piano, conducting and voice training at the Konservatorium Nürnberg and has a special interest in Schwitters' sound poetry. He has previously performed at Tate Britain and the Edinburgh Fringe. This performance is presented as a 'Finnisage' to the exhibition 'Germans in Britain'. Doors open at 5.30pm for a last chance to see the exhibition. The performance begins at 6.00pm and lasts about 40 minutes with an opportunity to donate in aid of Scottish Refugee Council by retiring collection.
Reserve your place by calling our usual booking line 0131 314 4300 or emailing enquiries@scotlandspeoplehub.gov.uk.
Adam Dome, General Register House.
This event is part of the programming around MMP's Germans in Britain exhibition run at the National Records of Scotland.