Event listing
Germans in Britain at the National Records of Scotland, Edinburgh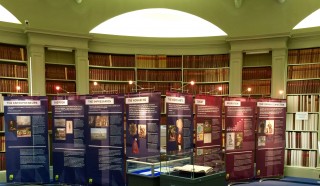 When
Jul 6, 2015 - Aug 7, 2015
Where
National Records of Scotland, General Register House,
2 Princes Street,
Edinburgh,
Scotland EH1 3YY
Contact
Telephone 0131 535 1314
Summary
We are delighted to be partnering with the National Records of Scotland to bring Germans in Britain to Scotland for the first time.
6 July – 7 August 2015⎪10am–4.30pm Monday – Friday
National Records of Scotland, General Register House, Edinburgh⎪Free admission
Germans have had an immense impact on British life over the centuries. This exhibition looks at how German connections have shaped everything from sport, business, the monarchy, science, music and the creative arts.
The exhibition in Edinburgh is complemented by specially selected original documents from the huge holdings of the National Records of Scotland, telling stories of German doctors, musicians, clockmakers, sailors and others who have lived and worked in Scotland since 1600. Among the fascinating documents featured is a register recording the baptism in 1598 of the son of the German doctor who attended Anne of Denmark, James VI's queen.
Find out more
Visit the National Records of Scotland website for further details.
Visit our exhibitions page to view the exhibition film and brochure.
Visit The National's website to read their write-up of the exhibition.
Comments
I welcome this exhibition that celebrates the amazing historic links between Germany and Britain, and highlights the contribution that people who have lived and worked in Scotland have made over the centuries.
Fiona Hyslop, Cabinet Secretary for Culture and External Affairs
We're delighted to be hosting this fascinating exploration of the long contacts between Britain and Germany, and to be able to complement it with gems from our own archives that record the presence of Germans in Scotland for more than 400 years. The exhibition has been made possible by our partnership with the German Consulate General in Scotland and the Migration Museum Project.
Tim Ellis, Registrar General and Keeper of the Records of Scotland
We are delighted that this important exhibition has found its way to Scotland. A huge number of Germans have become an active part of British society. According to the 2011 census, more than twenty thousand Germans are currently resident in Scotland. As Consul General it has been my pleasure to get to know Germans from all walks of life, who contribute amongst others to Scotland's higher education institutes, national health services, cultural and even culinary landscape.
Verena Gräfin von Roedern, German Consul General in Scotland
It is very exciting for us at the Migration Museum Project to see German-Scottish histories drawn out and spotlighted in this way, using our exhibition as a backdrop. The long history of German migrants in Scotland, beautifully demonstrated with material from the National Records of Scotland, goes to show that immigration is not just some awkward, new phenomenon, but a rich, old story and one that is, in many cases, still waiting to be told.
Migration Museum Project Director, Sophie Henderson
Germans in Britain is curated by Dr Cathy Ross, Honorary Research Fellow at the Museum of London, and designed by Joe Ewart of Society.
This exhibition has been realised through generous funding from The Schroder Foundation, the Kohn Foundation and a number of private sponsors.
In partnership with