Event listing
The ethics of people smuggling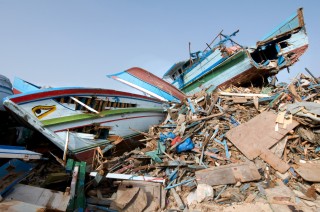 When
Jun 21, 2016 - Jun 21, 2016
Where
Londonewcastle Project Space,
28 Redchurch Street,
London, E2 7DP
Summary
The ethics of people smuggling
21 June 2016  | 7pm – 9pm | Free but advanced booking required. Click here to reserve your ticket.
Londonewcastle Project Space | 28 Redchurch St, London E2 7DP
For many hundreds of years, desperate migrants have put their lives in the hands of people smugglers. During the Second World War, Jewish refugees fleeing Nazi-occupied Europe sometimes relied on smugglers to cross borders – and some of these 'people smugglers' have now been lauded as heroes (the late Sir Nicholas Winton, for example). Looked at through this prism, the residents of the Calais camps are no different from the Jews, Poles and Vietnamese who went before them.
This panel discussion will reflect on the history of people smuggling and debate its ethics; it will also look at the complex role that smugglers play in the migration process – often the sole source of a route to safety and a new life, yet often also the people seemingly least concerned about migrants' physical safety. Should people smuggling always be considered a crime, or are there instances when it is can be morally justified? What do we know about the smugglers themselves and their motives? What can we learn from history?
This event is part of our exhibition, Call me by my name: Stories from Calais and beyond, exploring the complexity and human stories behind the current refugee crisis, with a particular focus on the Calais camp.
Chair
Julian Baggini, writer, journalist and co-founder of The Philosophers' Magazine
Speakers
Colin Yeo, Garden Court Chambers, barrister whose practice covers the full spectrum of immigration law, and founder of Free Movement, a widely respected blog on immigration law

Ahmad al-Rashid, Syrian refugee and writer of an open letter on his experience of migration to this country

Pamela DeLargy works in the Gender Institute at the LSE and is the Special Advisor for the UN Special Representative on Migration, Peter Sutherland. She has previously worked as representative for the UN Population Fund in Sudan.