Event listing
100 Images at Huguenot Museum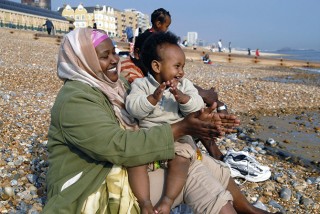 When
Jun 22, 2016 - Aug 20, 2016
Where
Huguenot Museum,
95 High Street,
Rochester, ME1 1LX
Summary
100 Images of Migration at Huguenot Museum
22 June – 20 August 2016
95 High Street, Rochester, Kent ME1 1LX
Opening times:
Wednesday – Saturday: 10am – 5pm
Bank Holiday Mondays: 10am – 4pm
Closed Sunday – Tuesday
In partnership with the Migration Museum Project, a new display at the Huguenot Museum focuses on contemporary images of migration. The images on display reflect on a legacy left behind by the Huguenots, as this country's first refugees.
Most people living in Britain have a migration story to tell. You might be part of a family that came here centuries ago as a trader or raider or you might have come here this very year. Some of us have left to make new lives overseas; others have come to start anew in this country. Some people's family will have moved within the country itself. Sometimes this movement has been undertaken willingly, sometimes unwillingly. Some of us migrate to escape war, poverty or oppression in our own countries; some to find work, learning, to join our families and build communities. Some of us have discovered new freedoms to speak out, to worship in peace, to learn, to write and to make art and music, to be ourselves.
Britain has not always welcomed people or made their lives easy. Many people coming here have had hard journeys and difficult transitions. Many find living here unacceptable and move on. But mostly Britain is and has been both a refuge and a country of opportunity. It has been hugely shaped by people settling here and bringing their culture, language and food as well as their skills and wisdom. We are all the richer for these patterns and layers from all over the world.
http://huguenotmuseum.org/visiting/special-displays/100-images-of-migration/