Event listing
Imprints: London Migration Walk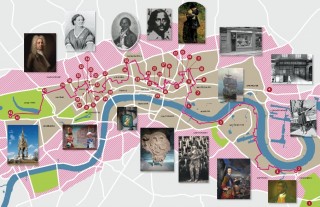 When
Oct 16, 2016 - Oct 16, 2016
Where
Greenwich to Hyde Park,
London,
Summary
The Migration Museum Project
presents
Imprints: London Migration Walk
16 October 2016  | 9am–4pm
Greenwich to Hyde Park, London
Join the Migration Museum Project for a fun day of discovery about London's migration history – and help us raise funds towards our goal of creating a Migration Museum for Britain.
Our aim is to tell the stories of migrants who have shaped our culture and identity and to promote a more historically based conversation about the role of migration in Britain. In the current climate, the need for such a space for dialogue could not be greater.
Walk with us as we follow in the footsteps of migrants who have left their mark on London – and help us create an exciting institution where these stories can be brought to life.
We will start at 9am at the Cutty Sark in Greenwich and aim to end with refreshments and cakes at 5pm at the Albert Memorial in Hyde Park. A shorter option starting at 11am from Whitechapel and ending at Hyde Park will also be available. Walkers will be in groups of 10, each led by an expert guide who will illuminate the remarkable stories of different generations of migrants who have made London the city it is today.
You can register by donating £15 to participate in the walk. This fee will help us cover the cost of the walk and support some of our current work.
As a charity, we depend on donations to put on events, exhibitions and education programmes. We have already reached tens of thousands of people through our work, which has had a major impact. If you missed our last exhibition, you can see what our visitors said about it here. To help us make even more of an impact in 2017, we encourage all walkers to raise funds from family and friends, in addition to the participation fee. With 100 walkers raising £200 each (£10 each from 20 friends), we could raise £20,000 for a new exhibition next year.
To assist your fundraising efforts, we've set up a fundraising page on MyDonate, where you can easily get started by clicking on the Start Fundraising button.
With your important support, we will be one step closer to a Migration Museum for Britain. Thank you for your generosity and we look forward to seeing you on the day!