Event listing
Interactive workshop: We are all migrants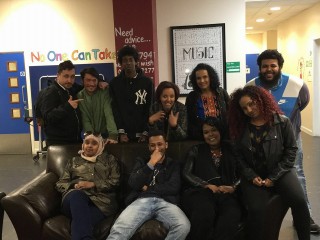 When
Jun 18, 2016 - Jun 18, 2016
Where
Londonewcastle Project Space,
28 Redchurch Street,
London, E2 7DP
Summary
We are all migrants: an interactive workshop
Facilitated by NOMAD (Nation of Migration Awakening the Diaspora) and performance artist Denys Blacker
18 June 2016  | 3-6pm | Free, no advanced registration required
Londonewcastle Project Space | 28 Redchurch St, London E2 7DP
Nomad (Nation of Migration Awakening the Diaspora) is an organisation working with young refugees in North London.
They will be presenting two interactive workshops that are open to public participation, in collaboration with the performance artist Denys Blacker
"We are all Migrants" is a workshop exploring the different topics and statements around migration and refugee and migrant issues. This activity will invite us to engage in a debate and meaningful discussions. We will take you on journey to explore and challenge the stigmas, taboos and labels attached to "refugee."
"Call Me By My Name" is a performance workshop during which we will explore the many names we have been called by others. the labels that we ourselves and others use to describe how we look and who we are; the insulting and the complimentary, the affectionate and the funny. The performance is open to audience participation and discussion.
The workshops are free.
No previous experience is necessary.