Event listing
TalkingART Lates: Animating Migration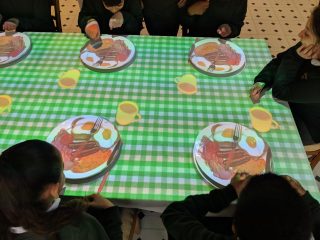 When
Sep 5, 2019 - Sep 5, 2019
Where
Migration Museum at The Workshop,
26 Lambeth High Street,
London, SE1 7AG
Summary
Thursday 5 September 2019 | 6pm–8.30pm (talk starts at 6.30pm)
Migration Museum at The Workshop
26 Lambeth High Street, London, SE1 7AG
Tickets: £5 (includes £0.77 booking fee)
Join Majid Adin, Kate Anderson and Olivier Kugler for an informal discussion about animation and graphic storytelling on migration themes.
Olivier Kugler spent weeks in a Syrian refugee camp, accumulating evidence for a graphic reportage of refugees' experiences; Majid Adin lived in the Calais camps before finding asylum in the UK and worldwide acclaim for his video animation of Elton John's 'Rocket Man'; and Kate Anderson absorbed the life stories of three migrants or children of migrants, which she would later animate as the centre-piece of the 'room to eat' in our Room to Breathe exhibition. The Migration Museum now offers you the chance to come and hear these three highly talented artists discuss their approach to storytelling.
The three artists, who have all worked with the Migration Museum, will be talking about their work processes, their inspiration, and the challenges of representing sensitive personal stories in cartoon or graphical form.
Doors open at 6pm, offering visitors the opportunity to explore our Room to Breathe exhibition before the event starts. The talk will start at 6.30pm. Drinks will be available throughout the evening from our donation bar.
Tickets cost £5 (£4.23 plus £0.77 booking fee) – click here to book.
We aim to make our events accessible to all, so if you would like to request a free ticket, please email us at info@migrationmuseum.org.
This event is part of our TalkingART series of lates. Our TalkingART Lates are a series of informal conversations with artists, photographers, oral historians and more, as they reflect on their personal experiences in using different art forms to tell diverse stories. All are welcome – drinks and nibbles will be available.
Artist bios
Majid Adin is a refugee from Iran, a graduate in animation who fled the country when his writing and cartoons criticising religious conservatism put his life in danger. After spending some time in the Calais camp called 'the Jungle', he came to the UK in the back of a refrigerated truck and claimed asylum. Alerted to a worldwide competition Elton John was running to produce videos for three of his classic early 70s' hits, Majid submitted proposals for a treatment of 'Rocket Man', which was chosen as one of the three winners. His success transformed his prospects, and he continues to work in the field of animation and illustration.
Kate Anderson graduated with an MA in animation and has produced animated shorts, music videos and commercials for a broad range of clients ever since. Her short films have been screened at BFI London and in festivals around the world. 'At The Kitchen Table: Stories of Migration and Resilience', the three animations that she produced for the 'room to eat' in Room to Breathe, have regularly been cited as the highlight of the exhibition by many visitors.
Olivier Kugler was born in Germany and now lives and works in London. He is the author of two books, and his graphic reportage has been used in magazine and newspaper articles, on CD covers and in campaign literature. Commissioned by Médecins sans Frontières in 2013, he spent two weeks in Iraqi Kurdistan, interviewing Syrian refugees and taking hundreds of reference photographs ,which he then used as the basis for the images in his book, Escaping Wars and Waves: Encounters with Syrian Refugees – images from which were used in our exhibition Call Me By My Name: Stories from Calais and Beyond.