Event listing
Borderless Cup Lambeth – football and basketball tournament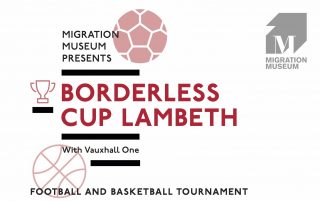 When
Aug 17, 2019 - Aug 17, 2019
Where
Black Prince Trust Community Hub,
Beaufoy Walk,
London, SE11 6AA
Summary
Saturday 17 August 2019 | 12pm–6pm (Tournament: 12pm–4pm, Reception: 4pm–6pm)
Tournament venue: The Black Prince Trust Community Hub, Beaufoy Walk, London SE11 6AA
Reception venue: Migration Museum at The Workshop, 26 Lambeth High St, London SE1 7AG
Free entry for Lambeth residents and organisations – see below for registration details
On Saturday 17 August 2019, the Migration Museum is joining forces with Vauxhall One, the Black Prince Trust, Kick It Out and Powerleague to invite teams from across Lambeth to participate in a free football and basketball tournament.
The five-a-side football tournament and three-on-three basketball tournament will take place at the Black Prince Trust Community Hub, followed by a reception at the Migration Museum at The Workshop, where we will celebrate #AllOurStories with presentations from former professional players.
There will be the opportunity to leave your story at our Migration Museum stall on the day, which will coincide with the Black Prince Trust's Community Family Fun Day. 
Am I eligible to play?
The tournament is free to enter and is open to Lambeth residents and organisations. We welcome participants from all backgrounds but you must be over 18 to play.
How do I register?
To enter, please click on the links below and complete the online registration forms:
Register a 5-a-side football team
Register a 3-on-3 basketball team
Alternatively, you can download a registration form using the links below, complete it and email it to: Robyn@migrationmuseum.org.
Download football registration form (Word document)
Download basketball registration form (Word document)
For more information, please contact: Robyn@migrationmuseum.org.
Sponsors and partners
This event is sponsored by Vauxhall One and supported by Kick It Out, The Black Prince Trust and Powerleague