Event listing
Taking Care of Business: Migrant Entrepreneurs and the Making of Britain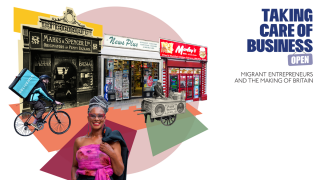 When
Apr 9, 2022 - Dec 23, 2023
Where
Migration Museum,
Migration Museum, Lewisham Shopping Centre,
London,
London SE13 7HB
Summary
Until 23 December 2023
Friday–Sunday, 11am–5.30pm (5pm close on Sunday)
Admission free – no booking required
Taking Care of Business is an immersive exhibition at the Migration Museum shining a light on the central role that migrant entrepreneurs have played in shaping our lives.
From the food we eat to the clothes we wear, the apps on our phones to the products in our homes, our lives wouldn't be the same without migrant entrepreneurs. 
So many of the brands and businesses that are integral to our lives – from corner shops to tech giants – are the products of migration. Yet we so rarely hear this story.
Entrepreneurship has always been at the heart of the immigrant experience. For many, starting a business is the only way to survive in a new land. Others arrive with an idea – and the skills and networks to help get it off the ground. Migrant entrepreneurs are good at spotting gaps in the market. They often serve communities ignored by other businesses, or even creating new markets for their ideas.
Starting a business as an immigrant requires hard work and sacrifice, resilience and ingenuity. Migrant entrepreneurship and innovation is a story to be celebrated. But it's a complicated story that exists within a wider economy and society. At a time when we are questioning whether the way we do business is fair and sustainable.
What role can we – and future generations – play in reshaping the economy and our lives?
Visit Taking Care of Business in person or explore the exhibition online

Supported using public funding by the National Lottery through Arts Council England, the Sukhpal Ahluwalia Foundation, Hogan Lovells and the Creative Change Fund in Lewisham's year as London Borough of Culture.