Event listing
Migrant Makers Market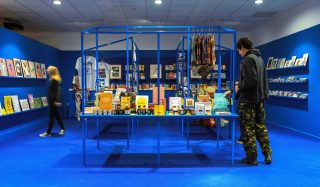 When
Apr 9, 2022 - Dec 23, 2023
Where
Migration Museum,
Migration Museum, Lewisham Shopping Centre,
London,
London SE13 7HB
Summary
Until 23 December 2023
Welcome to the Migrant Makers Market, our award-winning concept store and makerspace dedicated exclusively to selling products from migrant-owned businesses and creators. 
The Migrant Makers Market provides a much-needed platform for underrepresented makers, brands and businesses that otherwise aren't available in high street spaces. Take a closer look and among the products you will discover the stories of the entrepreneurs behind them. 
You can also browse and buy a selection of products from our Migrant Makers Market in our online shop
The Migrant Makers Market was designed by Lewisham-based designer, Lucy Sanderson, chosen to create the space following an open call to local artists and designers. 
"The Migrant Makers Market's spatial design is influenced by the design language of UK high streets, markets, and shopping centres, as well as the borough of Lewisham's blue and yellow brand identity honouring its home in the heart of Lewisham. A modular market stall system is surrounded by Lewisham blue adaptable display units. Yellow perspex signage with a fun bungee and toggle mechanism adds a secondary colour. The logo uses the same typography as off-the-shelf 'closing down' posters, mimicking the familiar repeat-pattern signage that acknowledges the difficult circumstances the British high street is currently facing. The design pays homage to iconic brands, many of which were created by immigrants, while celebrating and providing a platform for future migrant-founded brands and businesses."
– Lucy Sanderson, founder of Studio Lucy Sanderson and designer of the Migrant Makers Market.