Event listing
Rediscovering Rosemary Lane: Irish Migrants in Victorian London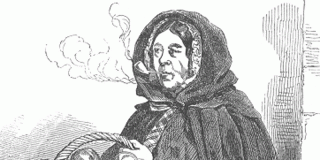 When
Mar 17, 2018 - Mar 17, 2018
Where
Outside Aldgate station,
EC3N 1AH
Summary
Saturday 17 March 2018 | 2.30pm–4.30pm
Assembly point: Outside Aldgate station
Free (advance booking essential)
The first in a series of four guided walks led by literary historian Dr Nadia Valman of Queen Mary University of London, exploring London through the eyes of migrant writers from the mid-nineteenth century to the 1960s.
This walk unearths the lives of Irish migrants in Whitechapel and Wapping in the mid-nineteenth century.
Hardly any trace remains today of the large population of Irish men and women who once lived in the East End. Fleeing famine in Ireland, they settled around Rosemary Lane, now Royal Mint Street, and played a major role in the workforce of the docks.
Our walk will consider Victorian journalist Henry Mayhew's meticulous interviews as a source for recovering the lives of Irish Londoners, looking at work and home life, and how links to Ireland and Irish Londoners were sustained through religious practice and mutual support.
This is a free walk, but advance registration via Eventbrite is essential as places are limited.
Other walks in this series:
Fragments of Jewish Whitechapel (Sunday 25 March, 2.30pm)
Colonials in the Metropole: Migrant Bloomsbury (Thursday 12 April, 6.30pm)
Left Luggage: Reading Sam Selvon in Waterloo Station (Sunday 22 April, 2.30pm)