Event listing
Migration through Dance: a double bill by Sivan Rubinstein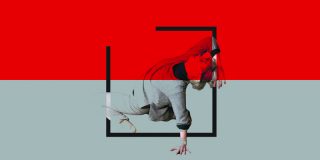 When
Mar 14, 2018 - Mar 14, 2018
Where
Migration Museum at The Workshop,
26 Lambeth High Street,
London, SE1 7AG
Summary
The Migration Museum Project and King's College London (KCL) present Migration though Dance, a double bill by choreographer Sivan Rubinstein. The event takes the audience on a journey, first exploring a map of the world through visual art, live music and participation; and then into a dance which uncovers the individual experience of migration through passports. These two performances will be followed by a discussion led by KCL's Dr Sarah Fine.
PROGRAMME
1. Active Maps (30 mins)
An audience participation performance led by choreographer Sivan Rubinstein and live music composer Liran Donin.  The journey starts with a visual installation designed by Hamish McPherson looking at the world as one home. Through movement, sound and migration, we will then create our very own global map which looks at the constantly changing nature of the world.
2. Ports that Pass (25 mins)
Ports that Pass is a collaboration between Loop Dance Company and choreographer Sivan Rubinstein, presenting a physical exploration of passports, travel and identity – illustrated through dance, sound and photography. At a time when borders open and close and passports come in a variety of colours and sizes, Ports that Pass investigates the passport and portrays some of the stories that individual passports carry.
3. Discussion (20 mins)
Following these two performances, there will be a conversation led by Dr Sarah Fine of King's College London.
Tickets for this event cost £8, plus a £0.97 Eventbrite fee. Click here to book your tickets now.
CREDITS
Active Maps is part of a research and dance production called MAPS, made in collaboration with Dr Sarah Fine, Senior Lecturer in Philosophy at King's College London, which was commissioned by Creative Europe's EU-funded programme, Pivot Dance, The Place (UK), Dutch Dance Festival (Netherlands) and Operaestate Festival (Italy), and with the support of Arts Council England and King's College London.
Ports that Pass was commissioned by Loop Dance Company, and made with the support of Arts Council England, the Israeli Embassy in London, and Turner Contemporary, Margate.
For more information on Sivan Rubinstein, please visit sivanrubinstein.com