Event listing
Newham Heritage Month: Shop Story Trail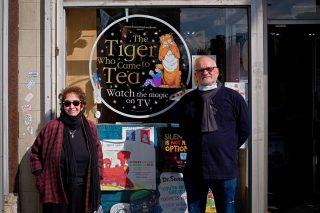 When
May 1, 2021 - May 31, 2021
Where
Newham Bookshop,
743-745 Barking Road,
London E13 9ER, E13 9ER
Summary
Throughout its history many people have settled in Newham and shaped the area. From booksellers to dressmakers, shopkeepers to café owners explore Newham's outstanding businesses and their migration stories. As part of Newham Heritage Month, join us in celebrating the local heroes who have found new ways to keep the local community running throughout the pandemic.
On the trail you will hear stories from local business owners Mohammed, John, Vivian and Kate, as they share their stories of Newham, and how they came to run their businesses in the area.
This is a self-guided mini trail, beginning at Newham Bookshop. The walk takes around 30 minutes without stops, but we encourage you to spend time, browse the shops, grab some food, and perhaps share your own migration story too.
If you don't want to visit all the shops in one day, you can download our leaflet and map and create your own route.
Don't forget to tag us @MigrationMuseumUK on Instagram, and @MigrationUK on Twitter with your photographs of the walk.
Find out more about Newham Heritage Month
Image: John and Vivian of Newham Bookshop. Photograph by Newham local Keith Martin