Event listing
Departures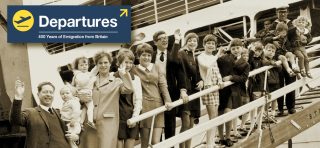 When
May 19, 2021 - Feb 13, 2022
Where
Migration Museum,
Migration Museum, Lewisham Shopping Centre,
London, SE13 7HB
Summary
UPDATE ON 05/01/2022: We are open again as usual from today – we look forward to seeing you soon.
Until 13 February 2022
Admission: Free – advance booking not required
Departures is an immersive exhibition exploring 400 years of emigration from Britain from the Mayflower to the present day through personal narratives, contemporary art and a range of media.
British emigration has been one of the largest movements of people in modern history. Tens of millions of people have left the British Isles over the past 400 years. Today, some 75 million people across the world self-identify as having British ancestry, greater than the population of the UK itself.
But while immigration dominates debates, Britain's emigration story is often overlooked. Why is this? Who are the many millions who have departed these shores and why did they go? Can exploring their motivations help us better understand the motivations of people who arrive? What impact has this mass movement had on the world – and on Britain?
Departures puts this lesser-explored story at centre stage. The exhibition features dozens of emigration stories spanning four centuries – from Mayflower Pilgrims to Windrush deportees, Cornish and Welsh emigrants to South America to 'Ten Pound Poms', Black Londoners resettled in Sierra Leone in the 1780s to Black Britons who have recently moved 'back' to their parents' countries of birth across West Africa, and Britons currently living across the EU who are facing up to Brexit.
Visitors will embark on an immersive journey starting in a 'Departures Lounge' featuring guidebooks for emigrants and an animated timeline, proceeding through 'Passport Control' to a series of themed 'Departure Gates' exploring different reasons and motivations for leaving, finishing in an interactive 'Baggage Reclaim' hall in which visitors are invited to share their thoughts on the complex legacies of British emigration.
Welcome to Departures. Your journey begins here.
For more information, please see the Departures exhibition page