Event listing
Stand-Up Comedy: No Direction Home – with Kae Kurd and special guests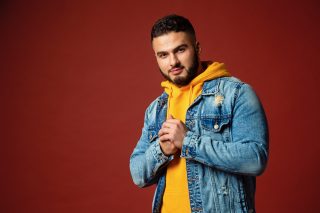 When
Feb 27, 2020 - Feb 27, 2020
Where
Migration Museum,
Migration Museum, Lewisham Shopping Centre,
London, SE13 7HB
Summary
Thursday 27 February 2020 | 7pm–9pm
Migration Museum
Lewisham Shopping Centre
London SE13 7HB
Tickets: £6 – click here to book
Headliner now announced: Kae Kurd
Join us for an evening of hilarious comedy in our new venue in the heart of Lewisham Shopping Centre, headlined by Kae Kurd and featuring No Direction Home, a collective of stand-up comics from refugee and migrant backgrounds. Hosted by Tom Parry and with performances from special guest comedian Charlie George and others.
Tickets £6 – click here to book (via Eventbrite).
Concessions available on request. Please email us at info@migrationmuseum.org to request a concession ticket.
—
About Kae Kurd (Headliner):
Smart, sharp and brilliantly astute, Kae Kurd is a young British-Kurdish stand up making a serious name for himself. Passionate about making politics accessible to his peers, his comedy presents beautifully crafted slick routines with confident cutting edge flair.
2019 was another standout year for Kae. He is now recognised as one of the UK's fastest rising online comedy stars, creating and curating short form content across a range of platforms, particularly notable for this hit podcast Quota's Full. His debut Stand Up Special Kurd Your Enthusiasm was another huge success with Joe.co.uk's Creative Director noting "It's intriguing – and exciting – that a performer with such a slick mainstream swagger is able to weave so many socio-political issues into his act."
About No Direction Home:
Counterpoints Arts runs No Direction Home as part of their PopChange project, in partnership with Camden People's Theatre and comedian Tom Parry. It's a unique course for new comics from refugee and migrant backgrounds. Since 2018 they have performed more than 15 gigs around the country, including at the Southbank Centre in London. PopChange explores how the power of pop culture can be harnessed to shift the way we talk, think and feel about migration and displacement.
About Charlie George:
Charlie George is an award-winning stand-up comedian and writer.
A former circus performer and dancer, Charlie started doing stand-up in 2018 and, since then, has fast become one of the UK circuit's most exciting new talents. A runner-up in both the prestigious Funny Women and So You Think You're Funny? comedy competitions of 2019, she has also performed stand-up on BBC Asian Network Live and the BBC's No Country For Young Women Podcast.
"Hilarious and no messin'. " – BBC Asian Network Comedy