Event listing
Migration Museum Late: Humanae Launch 2017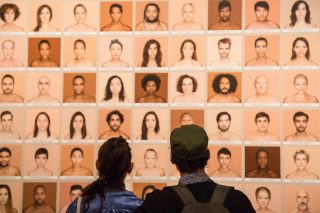 When
Oct 26, 2017 - Oct 26, 2017
Where
Migration Museum at The Workshop,
26 Lambeth High Street,
London, SE1 7AG
Summary
Please note this event took place in 2017, if you're looking for Humanae at the Migration Museum in Lewisham Shopping Centre please click here. 
Thursday 26 October 2017 | 6pm–9pm | Free admission
Migration Museum at the Workshop
26 Lambeth High Street, London, SE1 7AG
Join us on Thursday 26 October for a special late opening of the Migration Museum featuring the official launch of Angélica Dass' Humanae project.
We will be unveiling the portraits that Angélica took in London last month as part of her collaboration with the Migration Museum. The portraits and quotes collected in conversations with participants will be presented in a stunning installation as part of our No Turning Back: Seven Migration Moments that Changed Britain exhibition.
Drinks will be available, and members of the team will be on hand to give you a tour around the exhibition. Admission is free and registration is not required, so please invite friends and colleagues who may be interested – we look forward to seeing you.
Please note that the Migration Museum at The Workshop will be open continuously from 11am–9pm on Thursday 26 October. The official launch event for Humanae will begin at 6pm.