Event listing
Fragments of Jewish Whitechapel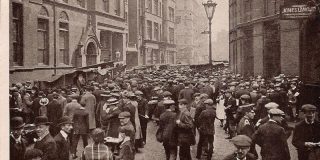 When
Oct 29, 2017 - Oct 29, 2017
Where
Outside Aldgate station,
EC3N 1AH
Summary
Sunday 29 October 2017 | 2.30pm–4.30pm
Assembly point: Outside Aldgate station
Registration free (booking essential)
The second in a series of new guided walks led by literary historian Dr Nadia Valman of Queen Mary, University of London, exploring London through the eyes of migrant writers from the mid-nineteenth century to the 1960s.
For nearly 70 years, Whitechapel was home to the UK's largest Jewish population.
This walk takes you on a route through Whitechapel in the words of two generations of local writers, including Russian-Jewish immigrant Thomas Eyges, who vividly describes his experiences of arrival and survival in late-Victorian London, and Israel Zangwill, who lived and worked among the immigrant community and documented their complex subculture. We will revisit the same locations as seen fifty years later by Polish-Jewish Esther Kreitman, whose dark fiction reflects the fragmentation of the Jewish community in the interwar East End.
Other walks in this series:
Rediscovering Rosemary Lane: Irish Migrants in Victorian London (Thursday 12 October, 6.30pm)
Colonials in the Metropole: Migrant Bloomsbury (Saturday 4 November, 2.30pm)
Left Luggage: Reading Sam Selvon in Waterloo Station (Saturday 18 November, 2.30pm)