Event listing
Boat-making workshop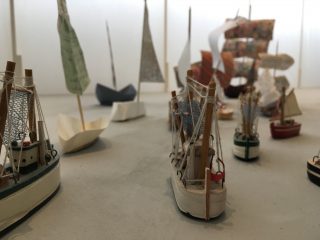 When
Nov 4, 2017 - Nov 4, 2017
Where
Migration Museum at The Workshop,
26 Lambeth High Street,
London, SE1 7AG
Summary
Saturday 4 November 2017 | 12pm– 4pm
Migration Museum at The Workshop
26 Lambeth High Street, London, SE1 7AG
Free admission
Did you or anyone in your family come to or leave Britain by boat? Do you have memories of sea journeys?
Join us for a boat-making workshop led by artist Terry Griffin and come share your story – and make a lovely piece of art.
We encourage you to bring photocopies of documents or prints of photographs, maps or letters to personalise your boats.
A selection of boats made during the workshop will be featured in our current exhibition, No Turning Back: Seven Migration Moments that Changed Britain.
This is the second of two boat-making workshops – the first is being held on Saturday 21 October, 12pm–4pm. Both workshops are free and open to people of all ages. No registration is required – just turn up on the day.