Event listing
Memories of Ukraine – A talk with photographers Tim Smith and Maryna Sulym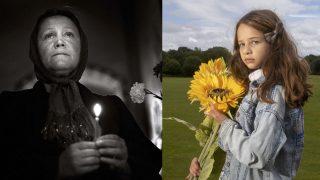 When
Jan 21, 2023 - Jan 21, 2023
Where
Migration Museum,
Migration Museum, Lewisham Shopping Centre,
London,
London SE13 7HB
Summary
Saturday 21 January 2023
2pm–3.30pm
Free – book via Eventbrite
Join us for presentations and a conversation between two photographers documenting the stories of Ukrainians in Ukraine and Britain.
Tim Smith and Maryna Sulym will present a selection of their work, both historical and contemporary, illustrating stories of Ukraine and Ukrainians, and discuss how these photographs and this history frame the current conflict. Their conversation will be followed by audience Q&A.
This event coincides with our current window display exhibition, We are All Connected, featuring the work of six Ukrainian artists.
Click here to book your free place (opens in Eventbrite)
The event is free but we encourage donations to the DEC Ukraine Humanitarian Appeal.
About the photographers:
Tim Smith
When Ukraine declared itself independent in 1991 it sealed the final collapse of the Soviet Union. Photojournalist Tim Smith's images, taken on both sides of this pivotal moment, illustrate stories of Ukraine and British Ukrainians and show how this history frames the current conflict.
His photographs explore how, at independence, the uncovering of a previously forbidden history helped to forge a new nation. This past also shapes the present. Vivid memories of life under Soviet rule continue to fuel the ongoing resistance of a population who dread the return of Russian occupation, with growing evidence that the widespread loss of life and destruction of the physical landscape is accompanied by Putin's ambition to obliterate Ukrainian culture and identity too.
Tim's photographs of Ukraine in 1991 were published in The Observer, The Guardian and other newspapers for whom he worked at the time. In 1997 he produced an exhibition entitled Ukraine's Forbidden History, comprising images and oral histories exploring the history of both Ukraine and British Ukrainians. This toured nationally with an accompanying book by Dewi Lewis Publishing, and in 2008 was also exhibited in the Ukrainian city of Chernivtsi.
Tim is a long-term member of Panos Pictures and he continues to work with the British Ukrainian community. Together they curated Voices in Exile, part of a multi-media exhibition shown at the National Science and Media Museum in 2019.
Maryna Sulym
Maryna Sulym is a documentary photographer and artist, and an immigrant from Ukraine. Her work, based on the research of visual perception, explores ideas of identity and belonging.
After the Russian invasion in 2022, millions of Ukrainians moved to other countries escaping the dangers of the war. Maryna's most recent project collects stories from Ukrainians who found safety in the UK.
Header images © Tim Smith/Panos Pictures and Maryna Sulym