Event listing
Hmong and Let's Make a Hat workshop with Chery Nguyen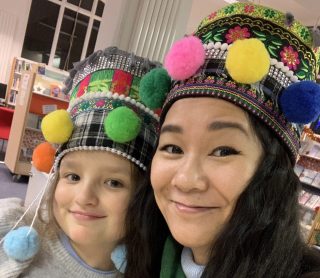 When
Jan 14, 2023 - Jan 14, 2023
Where
Migration Museum,
Migration Museum, Lewisham Shopping Centre,
London,
London SE13 7HB
Summary
Saturday 14 January 2023
1pm and 3pm
Free – book via Eventbrite
A Hmong hat-making workshop with Vietnamese artist Chery Nguyen.
Come join us in a crafty session of making, decorating and getting to know a bit more about this wonderfully charismatic ethnic group.
Traditionally living in Laos, Vietnam and China, Hmong people are recognisable for their iconic, vibrant clothing and traditional hats.
This free workshop is suitable for all ages and abilities. Chery will be running two sessions, at 1pm and 3pm.
Click here to book your free place (via Eventbrite)
About Chery Nguyen
I am Chery Nguyen, a Vietnamese, south-east London born and raised Creative Creator. This simply means that I design, draw, paint and make –using many mediums.
I am a freelance illustrator, prop maker and set designer for children's TV shows including Channel 5's Milkshake and Comedy Central's East Mode. I'm also a teacher of art and have worked in various local primary schools in the south-east London area.
I get endless joy in making and seeing others make too – which is why you will more often than not find me teaching and running creative workshops locally. I believe everyone is cut out for a bit of craft, no matter how old you or what skill level you think you are. Once you pop, you won't stop!