Event listing
Literary Natives: Literature, Art, and Transnational Identities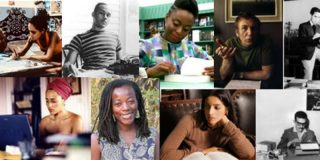 When
Jun 24, 2018 - Jun 24, 2018
Where
Migration Museum at The Workshop,
26 Lambeth High Street,
London, SE1 7AG
Summary
Literary Natives curates events to celebrate and discuss writers of colour, literature, and the road to becoming a published author.
To coincide with Refugee Week 2018, Literary Natives are hosting an event at the Migration Museum at The Workshop on Sunday 24 June, featuring discussions, readings and performances by authors, poets and storytellers.
The programme for the day will be as follows:
– The day starts off with a panel discussion with three authors – Saeida Rouass, J. Anthony Vassel and MS Karamat (see below for bios) – followed by a Q&A session.
– There will be a cake and coffee break for attendees to network after the Q&A.
– We will then listen to readings and performances by poets and storytellers.
Attendees will have plenty of time to view our current exhibitions and contribute to our interactive displays, as well as to engage with Literary Natives' own display of artwork on Dreams and Transnationality by five chosen artists. There will also be a book giveaway competition based on online interaction using the hashtag #LiteraryNativesLive.
Tickets for this all-day event cost £7.79 (plus £1.20 Eventbrite booking fee).
Click here to book via Eventbrite.
For more information, please email literarynatives@gmail.com. They will endeavour to answer your queries as quickly as possible.
About the panel:
Saeida Rouass is of Moroccan heritage, born and raised in London. She spent ten years working internationally as a trainer and project manager for various charities and NGOs. She currently works within international development and security with a focus on the Middle East & North Africa, and Morocco in particular. She is the author of Eighteen Days of Spring in Winter and Assembly of the Dead. She is currently working on Library of Untruths, set in 1912 Fes, when Morocco became a French Protectorate and the sequel to Assembly of the Dead.
J. Anthony Vassel is the author of 'The Curious Mr Gahdzooks and his Cautionary Tales for Naughty Children.' He is also the Creative Director and Script Writer for London based media company, Dare Arts Society. J.Anthony Vassell, better known as Julian Vassel, has enjoyed writing for as long as he can remember. He studied at Identity Drama School and also has a passion for acting.
MS Karamat is an arts curator, photographer and arts & culture writer from London. She has written forThe Hollywood Reporter, Rankin's Hunger Magazine, Film 3Sixty, The Times and more. Currently she is developing a high profile international two part book project titled Fear & Memory, a collection of 50 interviews & Photographs.This project brings together the established and emerging cultural figures of our time from Music, Film, Photography and Contemporary Art to tell us what it means, for them, to be fearless and unapologetic at a time that is leading us to be fearful of everything and everyone.