Event listing
Migration Museum Late – Refugee Week 2018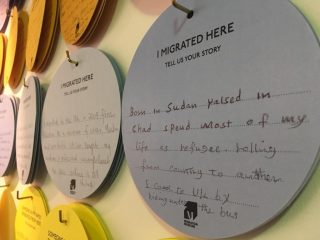 When
Jun 21, 2018 - Jun 21, 2018
Where
Migration Museum at The Workshop,
26 Lambeth High Street,
London, SE1 7AG
Summary
Thursday 21 June 2018 | 6pm–9pm
Migration Museum at the Workshop
26 Lambeth High Street, London, SE1 7AG
Free admission

Join us for a special Refugee Week 2018 late opening on Thursday 21 June, featuring food from refugee chefs, performances, presentations, a chance to see our current exhibitions and more.
Our provisional programme for the evening is as follows (please note that timings may be subject to change):
6pm–9pm Opportunity to see No Turning Back: Seven Migration Moments that Changed Britain and A Polaroid for a Refugee. Staff and artists will be present throughout the course of the evening and are happy to chat.
6pm–9pm Betty and Princess, two chefs from Migrateful, will be selling a delicious range of hot and cold food throughout the course of the evening. There will also be the chance to learn more about Migrateful in a short presentation. Please note that food is cash only.
6pm–7.30pm Welcoming Signs workshop, led by CARAS and Transition Town Tooting. A facilitated crafts workshop inviting participants to design and make a sign in response to the question: 'What would you like to say to welcome people who are new to the community?' All are welcome to join and all re-purposed materials will be provided on the evening. Participants can take their signs home with them at the end of the evening or leave them with CARAS and Transition Town Tooting to be displayed during Refugee Week and afterwards.
7pm–7.30pm Presentation by Giovanna del Sarto, creator of A Polaroid for a Refugee (plus audience Q&A)
7.30pm–7.45pm Presentation by contributing artists to the British Red Cross Young Refugee Project.
8pm–8.45pm Performance of Lina, a 'tragi-comic' play about a Syrian newcomer to London navigating her way through new social and cultural norms, learning English and coping with her family responsibilities, as well as the ups and downs of marriage. This light-hearted play is created and led by women who have themselves experienced aspects of Lina's life. The audience is invited to take part. The play is in partnership with Scheherazade Initiatives and Ahlan Wa Sahlan.
We will also be running a donation bar, serving a selection of soft and alcoholic beverages throughout the course of the evening.
This is a free event and there's no need to register in advance. However, please note timings of the various talks and performances above.
Please note that this month's Migration Museum Late is being held on Thursday 21 June to coincide with Refugee Week 2018 (June 18–June 24). We won't be holding a late opening on Thursday 28 June.