Event listing
"Britain on Film: Welcome to Britain" launch event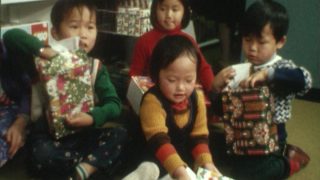 When
Mar 7, 2019 - Mar 7, 2019
Where
Migration Museum at The Workshop,
26 Lambeth High Street,
London, SE1 7AG
Summary
Thursday 7 March 2019 | 6.30pm–8.45pm
Migration Museum at The Workshop
26 Lambeth High Street, London, SE1 7AG
Tickets: £8 – click here to book (For concessions, please email andrew@migrationmuseum.org)
The Independent Cinema Office (ICO) presents the launch of Britain on Film: Welcome to Britain, a collection of short films that look back on a century of arrivals to the UK at a time of constant debates around immigration both nationally and internationally.
What emerges from these films is a picture of a country in flux as a century of conflict, the end of Empire and the forces of globalisation challenged geographical boundaries. See Basque families fleeing the Spanish Civil War arrive in Southampton; Vietnamese children find sanctuary in Birmingham; a Jewish family escape the pogroms of pre-war Romania for a Derby suburb. Witness early multi-culturalism in London and Manchester, the stories of second generation immigrants amid racism and rioting in the '70s and '80s, and about the traditions, restrictions and comforts of immigrant communities.
During a period in which some UK residents are being asked to re-frame their presence in the country, this programme explores the manifold costs to our shared humanity in turning people away and contends that all citizens should have a right to call themselves British: no matter where they started from.
Join us at the Migration Museum for a screening of these films followed by a panel discussion.
Tickets cost £8 (to which Eventbrite will add £0.97 commission) – click here to book.
For £5 concessionary tickets (for students, over-65s, disabled adults, adults on benefits, and refugees and asylum seekers), please contact Andrew Steeds on andrew@migrationmuseum.org
For more information on the Britain on Film programme and tour, visit the Independent Cinema Office's website