Event listing
Keepsakes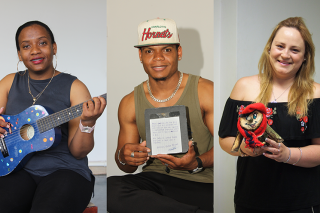 When
Jun 23, 2017 - Aug 20, 2017
Where
Migration Museum at The Workshop,
26 Lambeth High Street,
London, SE1 7AG
Summary
Keepsakes
23 June – 20 August 2017 | 11am– 5pm (Wednesday-Sunday, including bank holidays) | Free admission
Migration Museum at The Workshop
26 Lambeth High Street, London, SE1 7AG

Keepsakes is a display of personal items that keep memories of migration and identity alive. These items and objects are either those that one generation has handed down to the next, or those that individuals keep as a reminder of a home, a country or a culture they have left behind or as some part of a past experience that they want to hold close to them.
These personal items often have a greater resonance and relevance to visitors than exhibits collected through more standard museum routes. They tell human migration stories that others can easily identify with, told in the individual's own words, and which raise the question 'What would your keepsake be?' Each individual who has loaned an item has been photographed with their keepsake and their text about it is presented alongside the photograph.
This brand-new display is in partnership with Morley College, located close to Migration Museum at The Workshop.
For more information, visit our Keepsakes exhibition page, and do read Sue McAlpine's blog post, "A Keepsake is a very special thing", for our curator's insights into the project.
Do you have a Keepsake with a migration story? You can tweet us @MigrationUK #KeepsakesMMP and upload your image to our 100 Images of Migration Flickr group #Keepsakes. Your Keepsake may end up being part of a future Keepsakes display!
Please note: Sunday 20 August is the final day of this exhibition. The museum will then be closed between 21 August and 19 September; it will re-open on Wednesday 20 September with the launch of our new exhibition, No Turning Back.