Event listing
'Jungle' to City: Development of the Calais Camp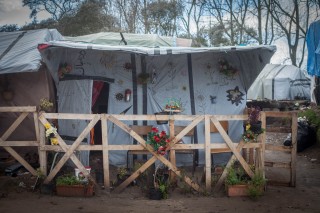 When
Jun 15, 2016 - Jun 15, 2016
Where
Londonewcastle Project Space,
28 Redchurch Street,
London, E2 7DP
Summary
'Jungle' to city: Development of the Calais Camp
15 June 2016  | 7pm–9pm | Free, click here to reserve your ticket
Londonewcastle Project Space | 28 Redchurch St, London E2 7DP
Join us for a discussion about the urban development and architecture of Calais and other refugee camps.
While refugee camps are generally perceived as temporary settlements, many have existed for years and operate like cities with complex economic, political and social structures. The 'Jungle' camp in Calais is no different. Despite the constant threat of evacuation and dismantlement, entrepreneurs, residents and international volunteers have set up shops, restaurants, schools, places of worship and many other social spaces. In a short time, the camp has gone from a transient group of tents to a self-governed semi-city. How has the Calais camp developed over time? What challenges, tensions and opportunities does it present? In what ways is it similar or different to other refugee camps around the world? What role, if any, should architects, urban planners and policymakers play in the development of refugee camps like the 'Jungle'?
Confirmed speakers include Rob Pinney, photographer and author of The Jungle, Jordana Lyden-Swift, initiator, Beyond the Refuge Research Program, Katja Ulbert, board of directors, Humanitarian OpenStreetMap Team and Beth Worth, trustee, Architecture for Humanity. Chaired by Shahed Saleem, lecturer, University of Westminster School of Architecture.
This event is part of our exhibition, Call me by my name: Stories from Calais and beyond, exploring the complexity and human stories behind the current refugee crisis, with a particular focus on the Calais camp.