Event listing
Big ideas? Big questions? Pop-up Profs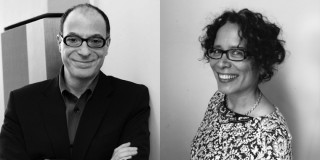 When
Jun 15, 2016 - Jun 20, 2016
Where
Londonewcastle Project Space,
28 Redchurch Street,
London, E2 7DP
Summary
Big ideas? Big questions? Pop-up Profs
In partnership with The Open University, the Centre on Migration, Policy and Society (COMPAS) at the University of Oxford and ESRC
15 June, 4pm–7pm and 20 June, 4pm–7pm
Londonewcastle Project Space, 28 Redchurch Street, London E2 7Dp
We know that you will find Call me by my name: stories from Calais and beyond thought provoking. We have invited two professors specialising in migration, Engin Isin (Open University) and Bridget Anderson (University of Oxford), for you to talk to about your responses to the exhibition and the refugee 'crisis'. Whether you want to talk practical next steps or visionary big ideas, come and share a conversation – and a biscuit.
Engin will be available to chat to on Wednesday 15 June, from 4pm-7pm.
Bridget and Engin will be both be available to chat on Monday 20 June, from 4pm-7pm.
There's no need to book in advance, just turn up on the day. Tweet your questions in advance or during the event to @MigrationUK using the #PopUpProf and #CalaisStories hashtags.
Speakers
Bridget Anderson is Professor of Migration and Citizenship and Research Director at COMPAS (The University of Oxford's Centre on Migration, Policy and Society). She has a DPhil in Sociology and previous training in Philosophy and Modern Languages. She is the author of Us and Them? The Dangerous Politics of Immigration Controls (Oxford University Press, 2013) and Doing the Dirty Work? The Global Politics of Domestic Labour (Zed Books, 2000). Bridget is particularly interested in the relation between migration and low-waged labour. This has led to an engagement with debates about trafficking and modern day slavery, which in turn led to an interest in state enforcement and deportation, and in the ways immigration controls increasingly impact on citizens as well as on migrants. Bridget has worked closely with migrants' organisations, trades unions and legal practitioners at local, national and international level.

Professor Engin Isin holds a Chair in Citizenship and is Professor of Politics in Politics and International Studies (POLIS) at the Faculty of Social Sciences, The Open University. He is also a past director (2007-2009) of the Centre for Citizenship, Identities and Governance(CCIG). Engin joined The Open University in 2007 after fifteen years of teaching and research at York University, Toronto, Canada. He was professor of social science (1993-2001) and Canada Research Chair (2002-2007) in social sciences. He gained his first degree in the Faculty of Architecture at Middle East Technical University, Ankara, Turkey (1982) and his PhD in geography at University of Toronto, Canada (1990).