Event listing
What is Britishness?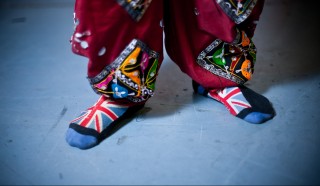 When
Jun 14, 2016 - Jun 14, 2016
Where
Londonewcastle Project Space,
28 Redchurch Street,
London, E2 7DP
Summary
What is Britishness?
14 June 2016  | 7pm–9pm | Free admission | Click here to book your free ticket
Londonewcastle Project Space | 28 Redchurch St, London E2 7DP
There are questions in the citizenship test to gauge people's understanding of it, and it is frequently mobilised in arguments about protecting it from exposure to external influences, or from political initiatives that threaten to dilute it – but what do we mean when we talk about British identity, or national identity in general? Are there clear criteria, a firm set of characteristics, that everyone can agree on?
Three writers who have produced, or are currently working on, books on the subject join up for a panel discussion chaired by British Future director Sunder Katwala on this topical issue. Professor Robert Tombs, author of The English and their History, a voluminous attempt to (among other things) define what we understand by 'English', will be joined by Robert Winder, author of Bloody Foreigners: The Story of Immigration to Britain and a forthcoming book on the nature of Britishness, and by the author and broadcaster Afua Hirsch, who is currently engaged in writing a book on national identity and belonging.
This event is part of our exhibition, Call me by my name: Stories from Calais and beyond, exploring the complexity and human stories behind the current refugee crisis, with a particular focus on the Calais camp.