Event listing
Family Fun Day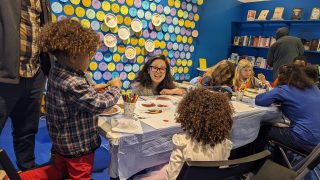 When
Apr 14, 2023 - Apr 14, 2023
Where
Migration Museum,
Migration Museum, Lewisham Shopping Centre,
London,
London SE13 7HB
Summary
Friday 14 April 2023
11am–3pm
Free – no booking
Join us during the Easter holidays for a day of fun activities for the whole family, including:
Zine Making: Join artist and educator Biancha Samuel-Reid for a drop-in creative paper-crafts workshop. Learn how to make your very own zine inspired by the amazing places and art found in Lewisham.
Book reading, crafts and games: Join Desriee Asomuyide, founder and CEO of inclusive award-winning brand Little Omo. Desriee will read from her book Isaiah's Extraordinary Mum and will be leading a range of craft activities and games throughout the day. Little Omo provides educational materials and toys for children that include and teach them about diverse cultural representation. Book readings at 11am, 12pm and 2pm.
No booking needed – drop in anytime from 11am–3pm to join in the fun!