Event listing
Eid card-making workshop with Nadina Ali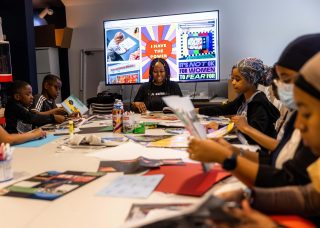 When
Apr 15, 2023 - Apr 15, 2023
Where
Migration Museum,
Migration Museum, Lewisham Shopping Centre,
London,
London SE13 7HB
Summary
Saturday 15 April 2023
11am–2pm
Free – drop in, no booking
Join graphic artist Nadina Ali for an Eid-themed workshop where you will be making your very own Eid cards.
Taking inspiration from Nadina's bold and colourful typography art, you will be using text, drawing, collage and colour to create unique cards you can proudly share with friends and family celebrating the end of Ramadan.
This free workshop is open to all creative abilities and ages. You are also welcome to attend if you are not Muslim and would like to create Eid cards for the Muslim people you know. Cards templates and materials will be provided – just bring yourself and your ideas!
Drop in anytime between 11am and 2pm to join in – no booking.
About Nadina Ali
My name is Nadina Ali and I'm a self-taught graphic artist currently based in London. My work is typography based and focuses on social justice, representation and inclusivity.
I was born and raised in Marseille by East African immigrant parents from Comoros who moved to France in the 1980s for a better life. I followed in their footsteps and moved to the UK to pursue better career opportunities in the mid 2000s.
I went to university in Manchester to study Clothing Design and worked in fashion doing product development and quality control for eight years. As my work in fashion wasn't creative, I used to spend a lot of my spare time experimenting with different creative outlets, which is how I got into lettering and typography.
In 2020, following a career a break from the fashion industry and being made redundant at my day job due to Covid, I decided to focus on my typography work and went freelance. I have since used my work to speak about topics I care about and empower people to do the same in the process. Mediums I work with include posters, t-shirts, billboards, murals and art installations.