2 December, 2016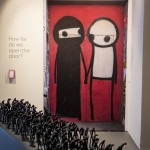 The Migration Museum Project (MMP) is jointly hosting a civil society forum at Rich Mix, London, on December 2, from 10am – 2pm, exploring the evolving impact of and response to refugee and migrant issues worldwide.
The evolving dynamics of the refugee and migrant response is a showcase event and panel discussion hosted by MMP, the International Organization for Migration (IOM), The Open University, The University of Oxford's Centre for Migration, Policy and Society (COMPAS) and actREAL.
The event will feature selected works from the MMP's Call me by my name: stories from Calais and beyond exhibition, as well as a panel discussion exploring the ethos and ethics of adequate responses to the current refugee and migrant situation, and where responsibility for these responses should lie.
There will also be live illustration of the panel by graphic artist Laura Sorvala, and a performance by school students based on material devised during a series of education workshops run by actREAL, an organisation using theatre and performance to bring academic research on social issues to life.
The event marks the culmination of The ethics and politics of the refugee crisis, an integrated programme of activities about migration aimed at strengthening collaboration between academic research, civil society, education and the culture sectors via avenues of creative expression. The programme is funded by the Economic and Social Research Council (ESRC).
Admission is free, but registration is required. For enquiries or to book a place, please visit the Eventbrite page.
Exhibition:
Extracts from Call me by my name: stories from Calais and beyond
Performance:
Students from City and Islington College, exploring media representations of migration and the Calais camp, based on a series of workshops run by actREAL
Live illustration:
Laura Sorvala