22 November, 2017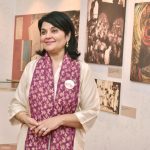 The Migration Museum Project and the London School of Economics and Political Science present the latest in our series of annual lectures on Wednesday 22 November.
The 70th year of Indian independence inevitably recalls Partition and the violent division that followed it. In a lecture that considers the lessons for other countries facing similar divisions, Lady Kishwar Desai talks about establishing the Partition Museum in Amritsar, and considers whether partition and division are ever reparable. The lecture will be chaired by Susheila Nasta MBE.
Admission is free, but capacity is limited, so it is essential to book a ticket in advance for this event.
LSE students and staff are able to collect one ticket per person from the SU shop, located at Lincoln Chambers, 2-4 Portsmouth Street from 10am on Wednesday 15 November. These tickets are available on a first-come, first-served basis.
Members of the public can purchase tickets online from 6pm on Wednesday 15 November until at least 12pm on Thursday 16 November via the event page on LSE's website.
If you would like to attend but will be unable to purchase tickets during this window, please email info@migrationmuseum.org before 6pm on Wednesday 15 November at and we will reserve a ticket for you, subject to availability.
Click here for more information and to book tickets from 6pm on November 15.
Speaker:
Lady Kishwar Desai is an author and columnist and chair of the Arts and Cultural Heritage Trust, which is responsible for creating the Partition Museum, dedicated to the memory of the Partition of the Indian sub-continent in 1947.
Chair:
Susheila Nasta MBE is Professor of Modern and Contemporary Literature at Queen Mary, University of London, and Emeritus Professor of Modern and Contemporary Literature at the Open University.