20 June, 2015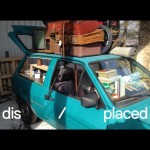 20 June 2015⎪1pm – 3pm⎪Free admission, book on Eventbrite
The Ditch, Shoreditch Town Hall, 380 Old Street, London EC1V 9LT
This Learning Lab will take the form of a moderated panel with short presentations and open discussion.
A recent article by Guardian journalist, Jonathan Jones, sets the agenda for this conversation when he declares that 'art's response to migrant drownings should be way more aggressive'. Jones suggests that 'the scale of our cruelty, the true consequences of all the rhetoric that de-humanises migrants, have become so lethally clear, surely art on such a theme should be less equivocal, more angry?'
What might a creative arts response be and can it ever act alone?
This Learning Lab brings together a mix of people who are actively engaged and interested in making urgent interventions in the representation and communication of the migrant crisis in the Mediterranean. It will showcase examples from creative practitioners, commentators and researchers who are telling the story of the root causes of the migrant crisis through collaborative storytelling methods, media platforms and broadcasting channels.
The aim is to set up a network of interested artists, journalists, activists, advocates, academics and policymakers with a view to sharing ideas and charting potential collaborations and storytelling partnerships.
The Learning Lab threads its way through Counterpoints Arts' dis/placed exhibition opening multiple spaces for interdisciplinary reflection, creative exchange, cross-sector learning and collaboration.
Full details of all Learning Labs