Wall
About the exhibition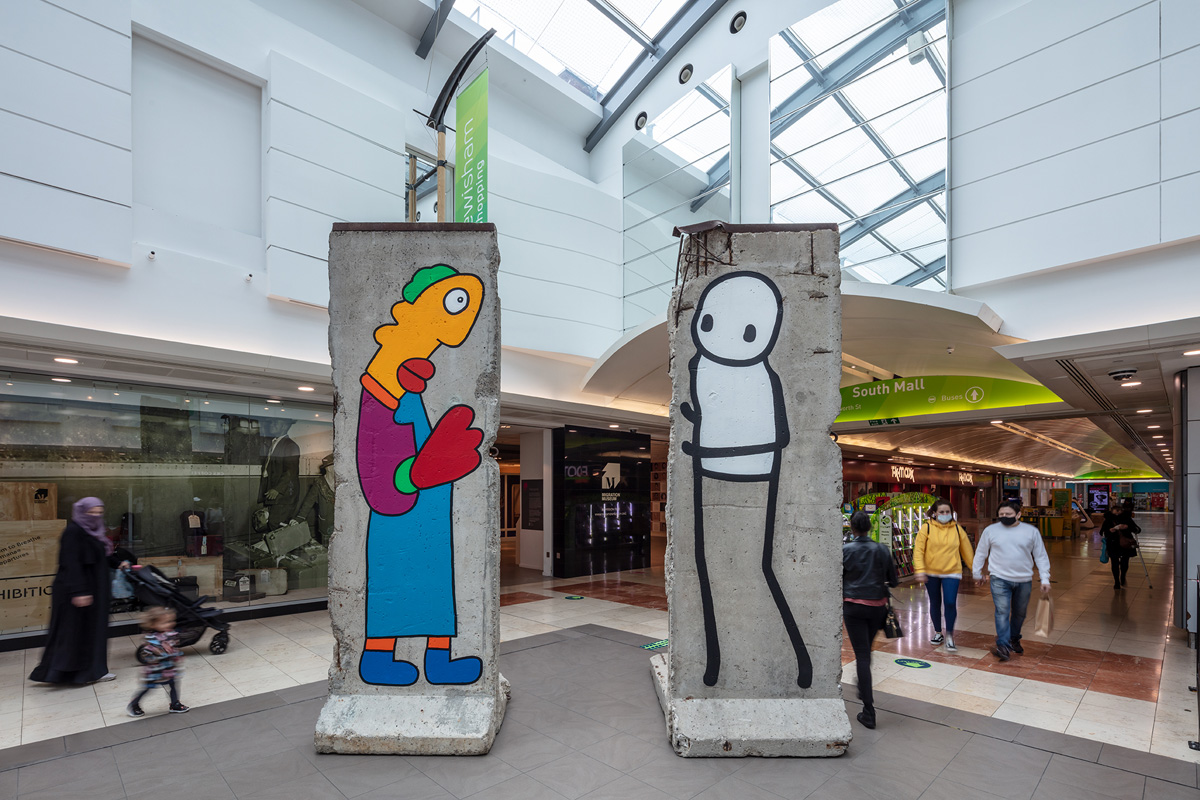 Venue: Migration Museum, Lewisham Shopping Centre, London SE13 7HB
Admission: Free
WALL, currently on display at The Migration Museum, is directly painted onto two separate surviving segments of the Berlin Wall by contemporary artists STIK and Thierry Noir.
Between 1984 and 1989 Thierry Noir illegally painted over five kilometres of the Berlin Wall. Noir's aim was to perpetrate an act of artistic resistance with the intent of changing the perception of the Berlin Wall, to demystify it and remove its threat by making it colourful and ridiculous. STIK continues this tradition of unofficial public art as a tool for radical social change by creating public commissions aimed at unifying and consolidating a deep sense of community.
In WALL, STIK and Thierry Noir directly reconnect with the historical movement of Berlin Wall art. The act of creating a new work on surviving sections further removes the intrinsic historical connotation of the Berlin Wall as a physical and mental barrier.
The Berlin Wall stood for 28 years, a physical and metaphorical barrier between Eastern and Western Europe as a division between cultures and political systems. It was an embodiment of enforced separation. The Berlin Wall was finally toppled in 1989 igniting political and social changes in Europe and the rest of the World. Surviving segments of the Berlin Wall scattered throughout the World on public display are monuments to living history and are still relevant to our lives today.
Sophie Henderson, Director of the Migration Museum says: "This artwork represents everything we do at the Migration Museum: providing a space for dialogue and reflection across divisions and for finding what we have in common. WALL forms a doorway to the Museum and is a symbol of friendship to all without exception."
Thierry Noir says: "My generation has a duty to explain what life was like with the Berlin Wall in a way that young people will not repeat the mistakes of the past."
Facts & Figures
The Berlin Wall segments outside the Museum were fabricated and installed between 1975 and 1980 as part of the "fourth generation" Berlin Wall. The segments were constructed using poured concrete reinforced with high density steel rebar. While it still stood the Berlin Wall was capped with sections of concrete sewage pipe to make it hard to climb. The sewage pipe is no longer on the sections outside the Museum.
While it stood, the Berlin Wall was 155 kilometres long and in fact consisted of two rows of wall with an area of no man's land in between which was known as the 'Death Strip'. The 'Death Strip' was laced with personnel mines and heavily guarded by armed border guards. There were over 300 watchtowers in the Death Strip and the guards were authorised to shoot anyone attempting to escape from East Berlin into West Berlin on sight. Between 1961 and 1989 at least 140 people were killed or died at the Berlin Wall trying to make the crossing.
Migration Museum Berlin Wall sections:
Height: 3.6 metres
Width: 1.2 metres
Thickness: 15cm
Weight: 2.6 tonnes
Materials: High density steel reinforced concrete partly using granulated agate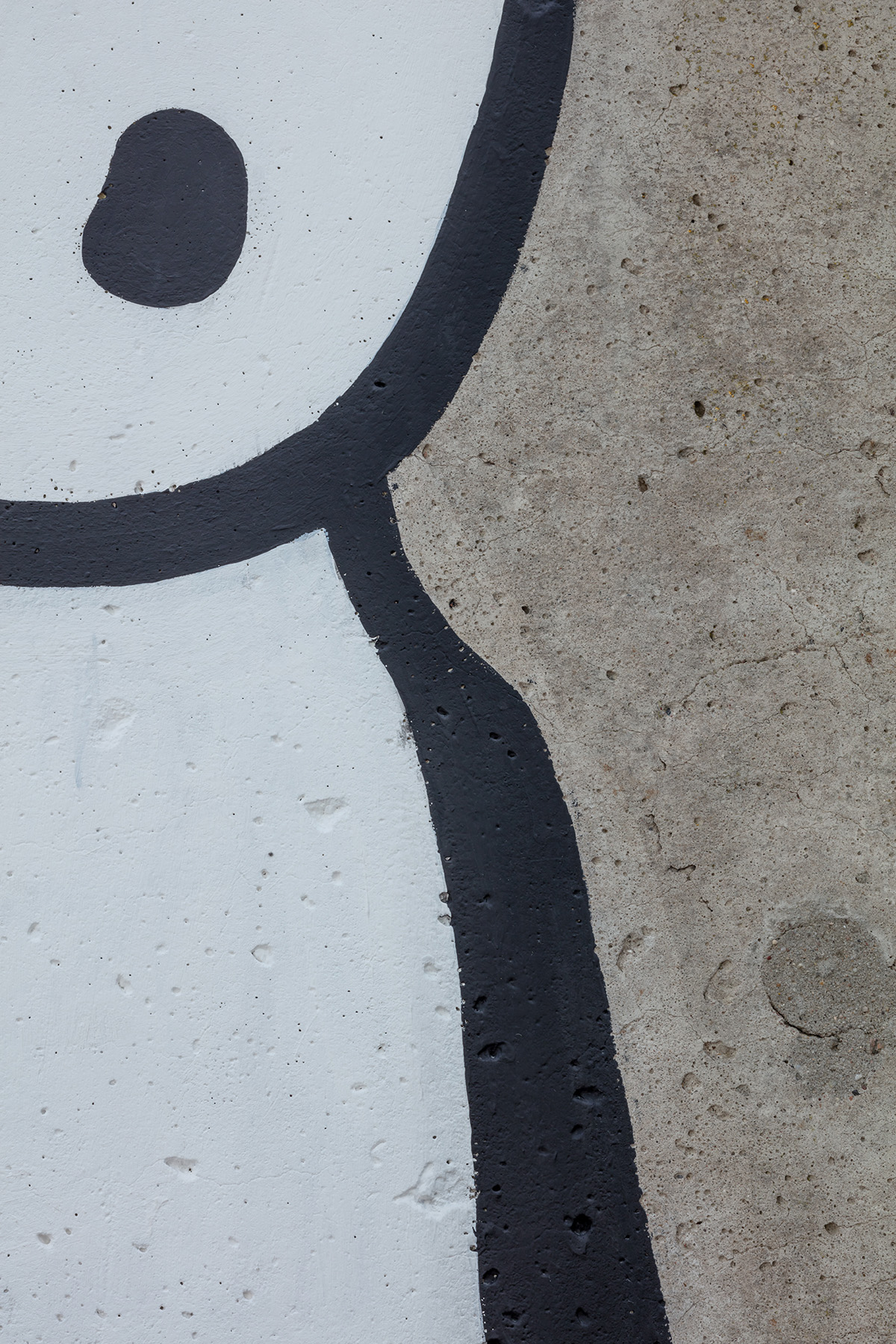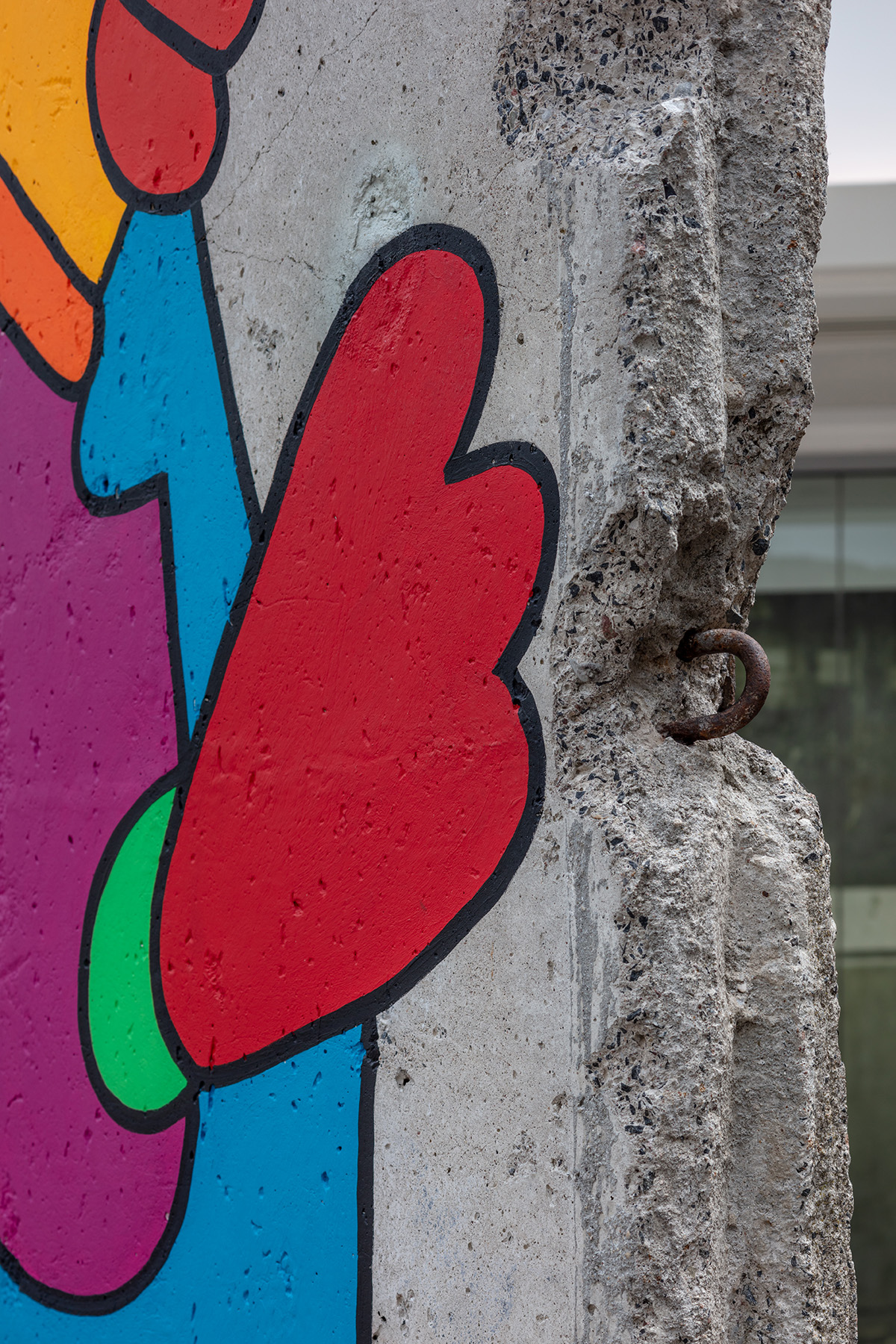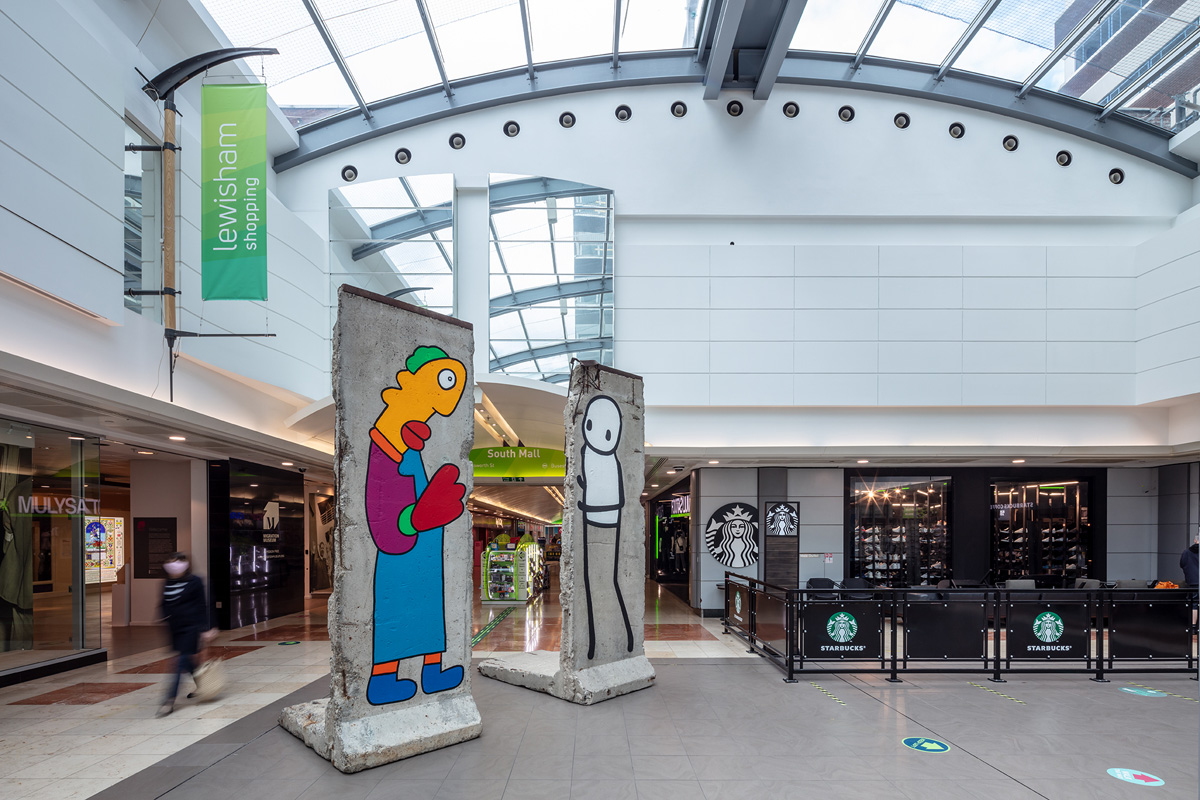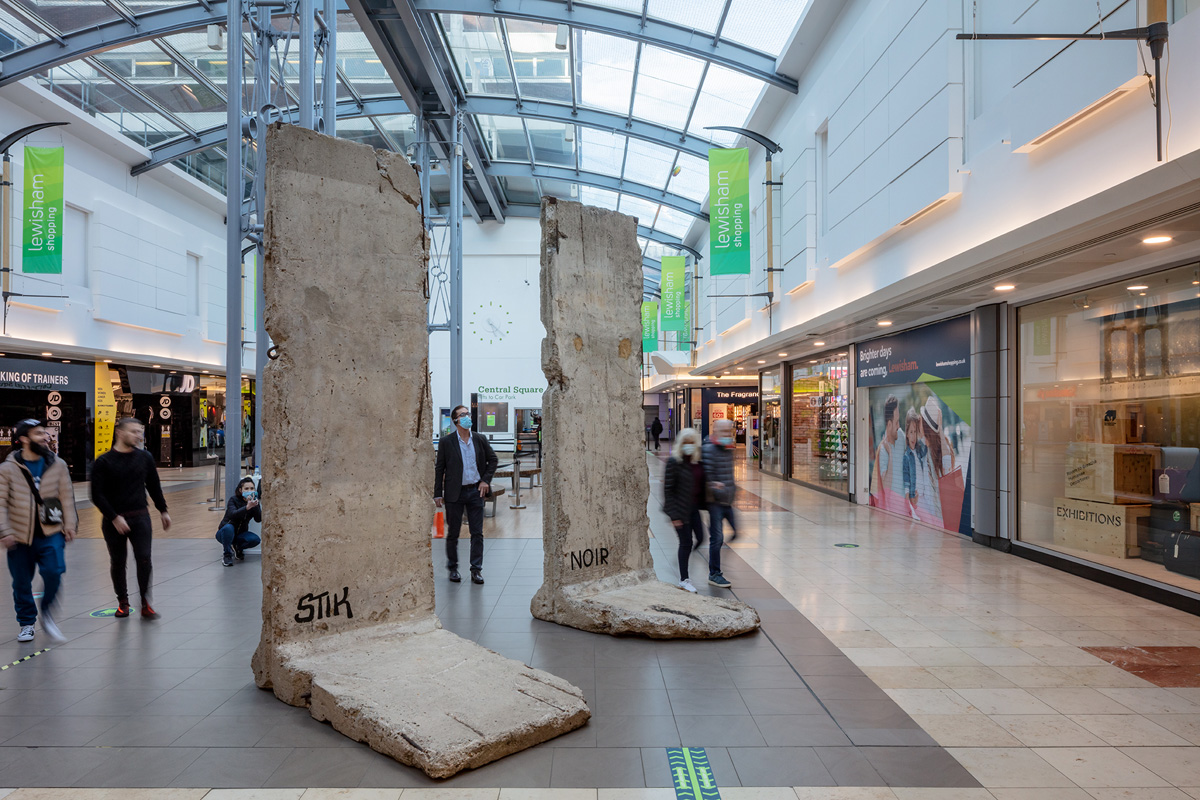 STIK (born 1979)
STIK is a British painter and sculptor known for his large scale public artworks in Europe, Asia and America. With his roots in the street art movement, STIK continues in the spirit of this tradition, from New York Tenement Museum's seven-storey 'Migrant' mural, to London's permanent bronze Holding Hands sculpture, encouraging community engagement and radical social change.
Thierry Noir (born 1958)
Thierry Noir is a French artist and muralist based in Berlin. He is considered the first artist to paint the Berlin Wall in the 1980s. Noir created brightly-coloured paintings across large spans of the Berlin Wall. Noir's work and style are now considered iconic, and Noir is also regarded as one of the forerunners of the street art movement as a whole. He continues to create murals worldwide in cities including London, Los Angeles, and Sydney.