Unsung Stories – Eastern Europeans in Britain
About the exhibition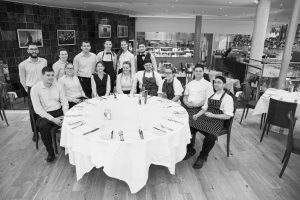 This is a previous exhibition that is no longer on display.
A new photographic exhibition of Eastern Europeans in Britain has opened in Roast in London's Borough Market, founded by a distinguished friend – and generous supporter – of the Migration Museum Project, Iqbal Wahhab.
In his blog post, Iqbal writes about his motivations for celebrating the contributions of Eastern Europeans to Britain with this exhibition.
Eastern Europeans are the particular focus of this exhibition, just as they have been the focus of media scrutiny on immigration since the enlargement of the European Union in 2004, and just as they have been the focus of hate crimes and attacks since the referendum in June 2016. Immigration from Eastern Europe to Britain has, however, been a feature of our history for centuries, with migrants from the region and their descendants making a major contribution to our national life an prosperity. This exhibitions provides a snapshot of that contribution.