Event listing
Welcome Home, Number 78070 – stories from No Turning Back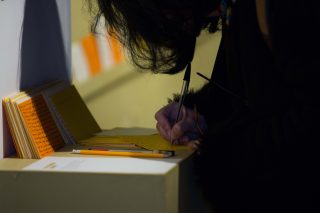 When
Sep 8, 2018 - Sep 8, 2018
Where
Migration Museum at The Workshop,
26 Lambeth High Street,
London, SE1 7AG
Summary
Saturday 8 September 2018 | 3.45–4.15pm and 4.30–5pm
Migration Museum at The Workshop
26 Lambeth High Street, London, SE1 7AG
Free admission
Set in the weeks before and days after the 2016 EU membership referendum, Welcome Home, Number 78070 brings together a series of real-life migrant stories left by visitors to the Migration Museum's No Turning Back exhibition, and adapts them for the stage as a collection of short plays and personal monologues.
From leaving behind friends and family, to finding love in a foreign land and planning for an uncertain future, each story will reveal an insight into life as a migrant in Brexit Britain.
There will be two free performances, the first starting at 3.45pm and the second at 4.15pm. Registration is not required, but if you are planning to attend we would encourage you to register via Eventbrite so we have a rough sense of audience size for each performance. Seating will be allocated on a first-come, first-served basis, so please arrive early to ensure a seat and that you get to see the entire performance.
Attendees will also have the chance to look around our No Turning Back exhibition during the final weekend of its run.