Event listing
We Are All Connected – launch event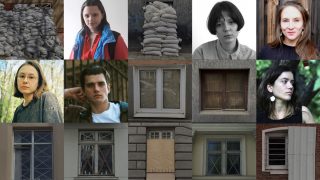 When
Dec 1, 2022 - Dec 1, 2022
Where
Migration Museum,
Migration Museum, Lewisham Shopping Centre,
London,
London SE13 7HB
Summary
Thursday 1 December 2022
6pm–9pm
Free – book via Eventbrite
Join us for the launch of We Are All Connected, an exhibition of works by six Ukrainian artists: Anna Dovhan, Illya Turyhin, Ivanna Bahriychuk, Yuliya Yeromina, Sofia Melnyk and Yaryna Shumska.
Meet the artists, experience live performances and find out how the Russian invasion and ongoing war has impacted their lives, Ukraine and Ukrainian art today.
Click here to book your free ticket for the launch event
About the exhibition
For this project, our common theme is migration: as a journey of self-knowledge and of understanding one's roots. Migration can be an integral part of being, like the yearly migration of birds. But it can also be intertwined with oblivion and escape.
Wars have always existed. People are born, people die, people migrate. We try to capture and pass on stories so they are not lost from memory. And these stories are all about us: humans destroy, but humans also create.
On 24 February 2022, studies at the Lviv National Academy of Arts in Ukraine were suspended; we lived in a completely unknown situation for two weeks.
Since then, we have been searching for a way out of this war and we continue to gather all our strength to find it. We keep working and exploring because we believe in the future. It belongs to us.
The war has become an impetus for a new look at our lives. This is a very difficult time for us – a time of fears and doubts, of inner struggles, but also a time to become stronger and to learn.
In this project, we focus on discovery, on learning new things and bringing them to others in different environments and contexts.
We are all connected by something; physically, mentally, by history, by family.
Our art embodies all this.
Yaryna Shumska
Lecturer in Contemporary Art Department, Lviv National Academy of Arts, Lviv, Ukraine
Find out more about the exhibition and artists
українською
Четвер, 1 грудня 2022
18:00 – 21:00
Безкоштовно –натисніть, щоб забронювати
Приєднуйтесь до нас на презентацію події We Are All Connected / Ми всі поєднані, виставки робіт шести українських художників: Анни Довгань, Іллі Туригіна, Іванни Багрійчук, Юлії Єрьоміної, Софії Мельник, Ярини Шумської.
Зустріньтеся з митцями,  проживіть перформанси двох художниць і дізнайтеся, як російське вторгнення та війна, , що досі триває, вплинули на їхні життя, Україну та українське мистецтво сьогодні.
Натисніть тут, щоб забронювати безкоштовний квиток на подію
Про проект We are All Connected / Ми всі поєднані
У цьому проекті нашою спільною темою є міграція; міграція як подорож самопізнання та розуміння свого коріння. Можна говорити про таку невід'ємну частину буття як річна міграція птахів. Але це поняття також переплітається із забуттям і втечею.
Війни існують споконвічно. Люди народжуються, люди вмирають, люди мігрують. Ті самі люди намагаються вловити та передати історії, щоб вони не стерлися з пам'яті. І це все про нас, людей, які руйнують, але водночас і творять.
24 лютого навчання у Львівській національній академії мистецтв призупинилося, два тижні ми жили в абсолютній невідомості.
Відтоді ми шукаємо вихід із цієї війни і продовжуємо збирати всі сили, щоб знайти його. Ми продовжуємо працювати та досліджувати, тому що ми віримо в майбутнє. Воно належить нам.
Війна стала поштовхом для нового погляду на наше життя. Це дуже важкий час для нас, час страхів і сумнівів, внутрішньої боротьби, але також час стати сильнішими і вчитися.
У цьому проекті ми зосереджуємось на відкритті, на вивченні нового і привнесенні його іншим у різних середовищах та інших контекстах.
Усі ми чимось поєднані; фізично, розумово, історією, родиною.
Усе це втілює наше мистецтво.
Ярина Шумська
Викладач кафедри Актуальних мистецьких практик Львівської національної академії мистецтв, Львів, Україна