Event listing
Three Mothers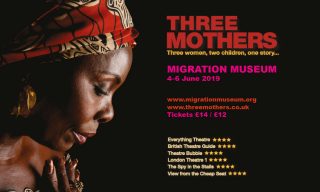 When
Jun 4, 2019 - Jun 6, 2019
Where
Migration Museum at The Workshop,
26 Lambeth High Street,
London, SE1 7AG
Summary
Tuesday 4 June 2019–Thursday 6 June 2019 | 7pm–9pm (Additional matinee performance at 2pm on Tuesday 4 June)
Migration Museum at the Workshop
26 Lambeth High Street, London, SE1 7AG
Tickets: £14 (£12 concessions) –  book via DesignMyNight
MATINEE PERFORMANCE ADDED: 2pm–4pm on Tuesday 4 June
Three women, two children, one story. Set in present day Senegal, Bavaria and post WW2 Sudentenland, Three Mothers is an award-winning play by Matilda Velevitch that immerses the audience in the personal lives and the dilemmas facing its three heroes.
When KHADY's husband dies, she is forced to sell his goats. Sending her eldest son away from Senegal across desert and sea to Europe, in the hope that he will find a better life, she plunges her entire family into uncertainty. When GISELA's life in England is turned upside down, she goes home to Bavaria seeking comfort and familiarity. But her attempts to assist the steady flow of refugees arriving in her childhood village soon awaken memories from her own past.  ERIKA reveals the truth about the journey made on foot with her baby daughter after being expelled from Sudetenland in 1945.  The bold choices made by these three mothers are brought together as one compelling narrative in this play.
The Migration Museum is staging a series of performances of Three Mothers in June 2019 as part of a national tour.
Acclaim for previous stagings of Three Mothers:
"An outstanding example of storytelling that is both compelling and deeply affecting. Not to be missed."  Everything Theatre

"Three great performers with three interlocking refugee stories across time. An impressive debut from Matilda Velevitch. Worth your time."  The Times

"Their stories creatively flow in and out of each other, hinting at connections."  Spy in the Stalls
"Matilda Velevitch's writing manages to incorporate humour and ultimately hope into a narrative that never fails to grip."  Theatre Bubble
"I have tried to do justice to this beautifully written and acted play, the best thing I can do is to urge you to go and see it."  View from the Cheap Seats