Event listing
Borderless – Collective art show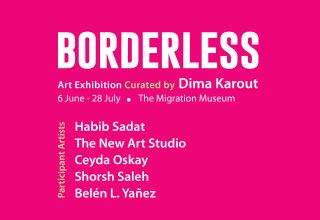 When
Jun 6, 2019 - Jul 28, 2019
Where
Migration Museum at The Workshop,
26 Lambeth High Street,
London, SE1 7AG
Summary
Dates: Thursday 6 June–Sunday 28 July
Opening hours: Thursday 12pm–8pm, Friday–Sunday 12pm–6pm
(Special opening in presence of the artists: Thursday 13 June, 6pm–9pm)
Admission: Free

Borderless
 is a collective art exhibition curated by visual artist and educator Dima Karout and featuring all of the artists who have taken up residency in the art studio inside our 
Room to Breathe
 exhibition. Each month a different artist made this studio their own, creating art and sharing fragments of the journey they made across many borders – physical, cultural, linguistic – before landing in London. Over six months, the walls of this room have shown the unique work of
Dima Karout
, 
Habib Sadat
, 
The New Art Studio
, 
Ceyda Oskay
, 
Shorsh Saleh
 and 
Belén L. Yáñez
.
Through meet-the-artist sessions, educational workshops and participatory artwork, the artists have shared their knowledge and stories with everyone who stepped into their universe. This space has hosted meaningful and sincere conversations, and proven that it is always possible to make connections through art. It has brought the artists closer to the public and inspired many people to uncover their creativity.
This final exhibition combines various art mediums and reflects on how the artists transformed their personal experiences in crossing borders into pieces of art, to convey a wider but intimate picture. It also focuses on how, through their art practice, the artists perceived the metaphor of borders, fought against division, and stood up for cultural diversity and inclusion.
There will be a special opening and a curator talk hosted by Dima Karout, in the presence of all of the artists, on Thursday 13 June from 6pm–9pm (click here for more info and to register).
We regret that the venue for this event is not fully accessible – it is located on the first floor with no step-free access.
About the art studio in Room to Breathe
The art studio inside our Room to Breathe exhibition is a space curated by visual artist and educator Dima Karout to explore the role of art and creativity in helping people settle into new lives in Britain, and to offer educational art experiences for visitors. Each month, the studio will host a different migrant artist to share their work and process.
View the full schedule of artists in residence and find out more about Room to Breathe