Event listing
The Story of the Windrush – Children's Workshop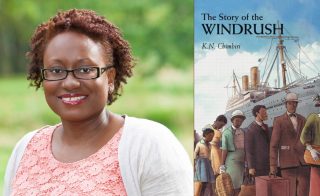 When
Oct 8, 2022 - Oct 8, 2022
Where
Migration Museum,
Migration Museum, Lewisham Shopping Centre,
London,
London SE13 7HB
Summary
Saturday 8 October 2022
1pm and 3pm
Free – register via Eventbrite

Join Kandace Chimbiri, author of The Story of the Windrush, for a book reading and art workshop for children of all ages.
Meet the author, who will give a short talk on the history behind the book. Then, create your own collage inspired by legacy of the Windrush generation. There will also be a book signing at the end of the event.
This event is for children of all ages, with the book particularly recommended for ages 7 to 11. Every adult must be accompanied by a child!
Kandace will be hosting two sessions – at 1pm and at 3pm, with each session lasting approximately an hour. Please click 'Select a time' on the Eventbrite page – via link below – to select which time you'd like to book for.
Click here to book your free place (via Eventbrite)
About the book
In June 1948, hundreds of Caribbean men, women and children arrived in London on a ship called the Empire Windrush. Combining historical fact with voices from the Windrush Generation, this book sensitively tells the inspiring story of the Windrush Generation pioneers for younger readers.
Visit us in person or our online shop to buy a copy of the book.
About the author
Born in London in 1968 to parents from Barbados, Kandace grew up and went to primary school in Lewisham. In 1980 her parents returned to Barbados and she received her secondary education there. Today Kandace lives in south London.
Kandace started out as a self-published author. She didn't grow up wanting to be a writer, however, she was greatly disturbed by the lack of diversity in children's books, particularly in Black history. To help tackle this inequity, she researched, wrote and distributed four Black history books for children from her spare bedroom (2009 – 2019). 
In 2020 Kandace decided to concentrate solely on writing. She signed a five-book deal with children's publisher Scholastic UK. The first book is reprint of her most popular self-published title The Story of the Windrush which celebrates the Windrush generation pioneers. Other books in the series are The Story of Afro Hair, 5,000 Years of History, Fashion and Styles (Oct 2021) and The Story of Britain's Black Airmen (Sept 2022).