Event listing
Rock Against Racism Victoria Park Carnival: 40th Anniversary Special Event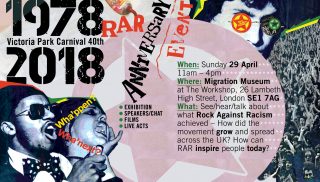 When
Apr 29, 2018 - Apr 29, 2018
Where
Migration Museum at The Workshop,
26 Lambeth High Street,
London, SE1 7AG
Summary
Sunday 29 April 2018 | 11am–4pm
Migration Museum at the Workshop
26 Lambeth High Street, London, SE1 7AG
Free – click here to register via Eventbrite
On Sunday 30 April 1978, 80,000 people gathered in Trafalgar Square, and danced their way through the East End to Victoria Park in Hackney for the first big Rock Against Racism Carnival Against the Nazis.
Rock Against Racism (RAR) had emerged in reaction to an alarming rise in racist attacks on the streets, and support for the neo-Nazi National Front at the ballot box. Mainstays of the UK pop scene such as Eric Clapton and David Bowie – white musicians capitalising on black music – made statements that further inflamed racial tension. Musicians and fans, armed only with imagination, courage and tenacity, gave birth to a movement which inspired a generation.
RAR is one of the seven moments explored in our No Turning Back: Seven Migration Moments that Changed Britain exhibition.
Join us on Sunday 29 April for a special event marking the 40th anniversary of the Victoria Park carnival.
This interactive event includes a guided tour of the exhibition – which features original posters, photographs, copies of the RAR fanzine Temporary Hoarding, letters from supporters, leaflets, badges, stickers and other Rock Against Racism artefacts – films, speakers and discussions exploring what RAR achieved, how the movement grew and spread across the UK, its legacy and the forces of cultural resistance today.
The event is free and open to all, but please register via Eventbrite to let us know that you are coming.
Click here to reserve your place.
The celebration event has been put together by former RAR people: Andy Dark, Kate Webb (aka Irate Kate), Lucy Whitman (aka Lucy Toothpaste), Robert Galvin, Ruth Gregory and Wayne Minter. Join their group on Facebook: RAR-RAP: Rock Against Racism Research 'n Archive Project.