Event listing
What role does the media play in the national debate around migration?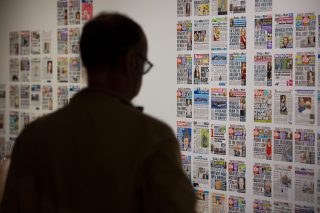 When
May 9, 2018 - May 9, 2018
Where
Migration Museum at The Workshop,
26 Lambeth High Street,
London, SE1 7AG
Summary
The mistreatment of the Windrush generation has dominated the front pages in recent weeks, with media reporting playing a positive role in bringing the story to the public's attention. But many headline stories about migration are far more negative and sensationalist in tone.
The role that the media plays in national debates about migration is one of the themes explored in our No Turning Back: Seven Migration Moments that Changed Britain exhibition, and a subject that has sparked a great deal of discussion and debate among visitors. To what extent does coverage of migration by the media shape and influence perceptions and debates around migration? Or is our media merely reflecting and reporting on views and debates that are already being had across the country?
Join a panel of journalists and researchers on Wednesday 9 May to discuss and explore these questions – and more. The discussion will be chaired by Sunder Katwala, director of think tank British Future and a former journalist. Following the panel discussion, there will be an audience Q&A session.
Listen to an audio recording of the event:
Confirmed speakers include:
Liz Gerard, winner of the independent blogger of the year at the 2017 Comment Awards and former Times night editor, who contributed a display to our current exhibition charting all of the front-page migration stories published in national newspapers throughout 2016
Jakub Krupa, UK correspondent for the Polish Press Agency
Abdulwahab Tahhan – raised in Aleppo, Syria and now based in the UK, Abdulwahab is a Syrian researcher at Airwars with the assistance of the Refugee Journalism Project.
Chair:
Sunder Katwala, director of British Future and former journalist. He was general secretary of the Fabian Society thinktank from 2003 to 2011, and was previously a leader writer and internet editor at the Observer, a research director of the Foreign Policy Centre and commissioning editor for politics and economics at the publisher Macmillan.
To ensure that this event is accessible to as wide an audience as possible, there is no fixed admission price, but we invite all who can afford to do so to make a suggested donation of £5.
This will help us to cover the running costs on the evening and to ensure that we can continue to put on a wide range of public events in the future. There will also be a donation bar serving a selection of drinks on the evening.