Event listing
Noras of Lewisham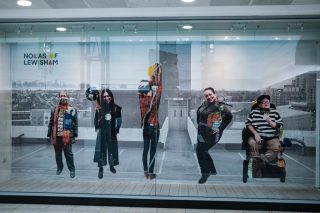 When
Mar 2, 2022 - Mar 27, 2022
Where
Migration Museum,
Migration Museum, Lewisham Shopping Centre,
London, SE13 7HB
Summary
The Noras Project, created by artist Belén L.Yáñez and architect Cristina Villalonga, has placed images of women and girls within public spaces, creating a celebration of their contribution to the Lewisham community and to society as a whole.
Each artwork is made through a participatory process, engaging with individual women and girls, starting a conversation about their hopes and approach to personal expression. The ideas within these discussions have been the inspiration for Belén and Cristina to create collages, incorporating photographs of the individuals with other found imagery. The large-scale images were then relocated back within different locations across Lewisham.
The project aims to challenge stereotypes and go under the surface of initial visual depictions of the people featured. The women and girls are all revealed through a narrative layering of their image with elements which are important and representative of them, their personalities or lives. The creators have introduced an imaginative perspective onto the depiction of women, making portraits which present the chance to see female bodies as a space to explore and question ideas about female identity.
These 21 pieces become electrified, however, by revealing, through the collaged elements, the bright light which each shines onto the world through their interests and knowledge. They show carefully selected, individual attributes of that person by joining the figure with images of their interests, displaying hopeful thoughts as talismans and giving pictorial form to their aspirations. Each image shows the integrity and depth of the women and girls who participated, providing a series of multifaceted female portraits and, as a series, a snapshot of this important group within the Lewisham community.
Belén L.Yáñez is a performance and visual artist. Her work explores human interactions through collective participatory practices combining performance, visual art and installation. She creates experiences that challenge art and audience relationships, generating spaces that push boundaries of personal interaction and where the audience is an active collaborator. Belén was previously one of our artists in residence in the art studio in our Room to Breathe exhibition in 2019.
Cristina Villalonga combines her professional practice in architecture and design with the exploration of the intersection between architecture, technology and culture, challenging current urban political ecologies and infrastructures to investigate how spatial practices can respond to environmental and social issues.
Find out more about the Noras project
@noras_project on Instagram
Noras of Lewisham is part of Lewisham Borough of Culture International Women's Day celebrations and is funded by Lewisham Council and Arts Council England.