Event listing
Artist Showcase: Himani J Weir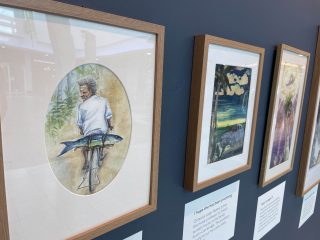 When
Apr 2, 2022 - Jun 4, 2022
Where
Migration Museum,
Migration Museum, Lewisham Shopping Centre,
London, SE13 7HB
Summary
This display is part of our Artist Showcase series, spotlighting work by local artists with migrant heritage in our window display:
Himani J Weir
Finding threads, tracing lines
"Tales from one island to another, a lived experience and portrayal of herstory."
Octavia Kamala Jayasuriya
Storytelling has endured throughout my life, whether it was a Grimm's fairy tale read at bedtime or a Jakata fable read to me from a Buddhist text. In the tradition of oral herstories, Octavia's stories sit.
As a child, I savoured her recollections of life in Sri Lanka spanning the 1930s to the 1960s. When my mother recounted scenes from her life, she spoke in a uniquely animated way. I imagined the personalities and places that she talked about so often. Right up until the time of her passing, I memorised these stories and jotted down her words, knowing one day I would do something with them.
I want to preserve her authentic voice. Through the process of illustration, I feel as if I am taking her hand in mine; joining her to travel into her past and make my own discoveries.
I am forever intrigued about her impetus to migrate to England, joining my father, Raja, in the late 1960s. I want to consider and explore her journey, the risk-taking, the sense of adventure, the loss and isolation, as well as the freedom she discovered.
The illustrations will become a picture book as Octavia's legacy continues, threading together remnants of the past and present with those that are yet to be created.
I grew up in south-east London and at that time, in the area I grew up in, there were few faces that looked like mine. As I child I came to Lewisham to go shopping with my family – surrounded by its diverse ethnic communities, it made me feel somehow more connected.
Alongside my own art, I teach art at Lewisham College, where I have worked for many years, encouraging my students – many of whom are second- or third-generation immigrants – to share their own stories.
Artist Talk: Himani J Weir

Watch Himani J Weir talking about her work at the launch event for her Artist Showcase at the Migration Museum in April 2021.
Supported by Lewisham's Creative Enterprise Zone and SHAPESLewisham