Event listing
Artist Showcase: KV Duong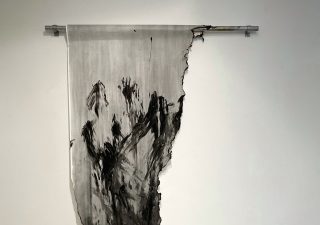 When
Apr 2, 2022 - Jun 4, 2022
Where
Migration Museum,
Migration Museum, Lewisham Shopping Centre,
London, SE13 7HB
Summary
This display is part of our Artist Showcase series, spotlighting work by local artists with migrant heritage in our window display:
KV Duong
Too foreign for home, too foreign for here
I was born in Ho Chi Minh in Vietnam in 1980 and migrated to London in 2010. I grew up in Canada to Chinese Vietnamese parents displaced by the Vietnam War. In my work I explore themes of migration and cultural assimilation, through a re-examination of my parents' and my own experiences. I am a self-taught artist with a background in structural engineering.
The central piece Resurrection is a live body-painting performance about my family's journey from Vietnam. My father was drafted to the war but was thankfully dismissed because of his glaucoma. My mother was shot in the hand while carrying her sister and fleeing their home. My aunts were boat people who made it to Canada via the Bidong Island refugee camp. The burning of paper in the performance refers to the Buddhist philosophy of burning joss paper to pay homage to our ancestors. Resurrection was performed at the APT Gallery in Deptford last summer.
In Family Portraits, foreground images of my British work visa and portraits of my family and siblings are shown on top of an aerial view of a refugee camp. The facial features are deliberately blurred to present a universal experience of migrants.
In the sculptures, small-scale building blocks are precariously balanced to portray the experience of new immigrants living in a foreign country.
In Classroom, a historic background of Lewisham High Street is overlaid with children's school desks. Between 1975 and the 1990s, around 22,000 Vietnamese refugees resettled in Britain, principally in London and clustered in Hackney, Deptford, and Lewisham.
Artist Talk: KV Duong

Watch KV Duong talking about his work at the launch event for his Artist Showcase at the Migration Museum in April 2021.
Instagram: @kvduongart
Supported by Lewisham's Creative Enterprise Zone and SHAPESLewisham